U.S. Intelligence: Russian Casualties in Ukraine Are Over 75K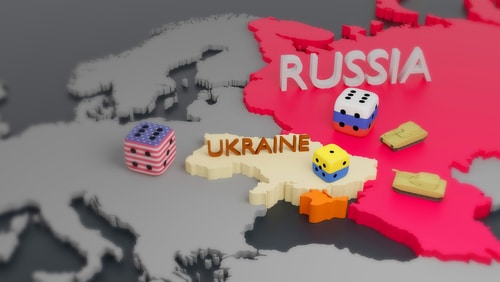 Roughly half of the Russian troops initially sent to invade Ukraine are estimated to have been killed or wounded, indicating that the ongoing conflict has enacted a sizable toll on Russia.
Representative Elissa Slotkin on Wednesday told CNN that over 75,000 Russian soldiers have been either killed or wounded since Russia began its invasion on February 24. Slotkin made the remarks after attending a classified briefing on the war in Ukraine with Biden administration officials who described the Russian military as drained.
In the leadup to its invasion of Ukraine, Russia reportedly amassed 150,000 soldiers along the Ukrainian border. Since then, figures on Russian losses have remained nebulous. The new numbers, if confirmed, would mean heavy losses for Russia as Ukraine presses ahead with a counteroffensive.
Describing the figure as "huge," Slotkin told CNN that the Russian military has made "incredible amounts of investment in their land forces," over 80 percent of which she said are "bogged down" and tired.
Slotkin, who recently returned from a trip to Ukraine, told CNN the next three to six weeks could be critical for how the conflict unfolds.
"I think that what we heard very firmly from President Zelensky and reinforced today is that the Ukrainians really want to hit Russia in the teeth a few times before the winter comes, put them in the best position possible, particularly hitting them down south," Slotkin said.
A counterattack is currently underway in the Russian-occupied southern portion of the country as Ukrainian forces attempt to retake the city of Kherson. Regaining control of the city is expected to give Ukrainian forces a foothold to reclaim parts of the Black Sea coast.
After seeing Russian gains in Ukraine's eastern Donbas region earlier in the summer, Ukrainian officials have more recently adopted a buoyant tone in their public statements. In particular, Ukrainian forces have touted their success using U.S.-supplied High Mobility Artillery Rocket Systems (HIMARS) to upend Russia's war effort, targeting Russian command posts and ammunition depots with long-range missile strikes.
Richard Moore, head of British spy agency MI6, said during last week's Aspen Security Forum that Russia was "about to run out of steam," while Ukraine still enjoyed high morale as it received powerful weapons from Western allies.
"I think our assessment is that the Russians will increasingly find it difficult to supply manpower and material over the next few weeks," he said. "They will have to pause in some way and that will give the Ukrainians opportunities to strike back."
Ukrainian President Volodymyr Zelensky said in a national speech on Tuesday that nearly 40,000 Russian service members had died or been injured in the invasion.
The Kremlin has been tight-lipped about casualties, with the Ministry of Defense only reporting troop losses twice in March, according to independent Russian media outlet Mediazona. A Russian lawmaker who chairs a defense committee told state-run media agency RIA Novosti in June that "we have practically stopped losing people."
Newsweek reached out to the Russian government for comment.
Source: www.newsweek.com