Aurora Welcomes Celebrates Day of the Dead 10\15 – 11\06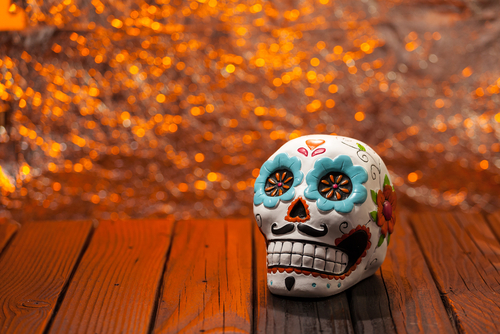 Now in its third year, Sugar Skull City will turn downtown Aurora into a celebration of Day of the Dead from October 15 to November 6. The downtown will be rich with decorations and activities that surround the Mexican holiday.
The annual event features a three week celebration honoring the beloved Mexican cultural tradition of Day of the Dead or Día de los Muertos, and culminates with events during the first week of November including First Fridays and a Sugar Skull City market.
Dozens of downtown storefronts will be painted by local artists and decorated with festive displays for the holiday. Visitors will enjoy several photo worthy opportunities, including a large five-foot-tall painted skull at Sergio Furniture, 36 W. Downer Pl.
This year, Sugar Skull City will feature pan de muerto, or bread of the dead, for its downtown-wide scavenger hunt. Pan de muerto art submitted by more than a dozen local artists and students will be displayed in downtown windows for the hunt. Visitors are encouraged to tag @downtownaurora on Instagram to enter weekly giveaways.
Athziry Dia de los Muertos will host several activities throughout downtown at First Fridays on November 4. The nonprofit run by Jose Torres will feature a festival on Water Street Mall, a fashion show at La Quinta de los Reyes, and activities at Santori Public Library.
Ofrendas, or altars, honoring the dead will be on display at several downtown merchants including multiple storefronts on Broadway including Balderas Beauty Salon and Divas, 25 N. Broadway. Owner Clara Diaz will host festivities with body painter Jose Art in the parking lot behind her salon during First Fridays.
The library will host a community ofrenda exhibit starting the first week of November. Community members are encouraged to enter the ofrenda contest by October 14. Sign up on the library's website at www.aurorapubliclibrary.org/event/7202333.
A special Sugar Skull City themed Art and Market featuring Hispanic-owned businesses and merchants from Oaxaca will be open from 9 a.m. to 1 p.m. on Saturday, November 5 at Society 57.
Day of the Dead items will be for sale at a variety of downtown businesses including gourmet goods from The Cornucopia Shop, 63 S. Broadway, fresh flower bouquets from Blissful Blooms, 55 S. Lake St., and Sugar Skull City tote bags and artisan items at Wyckwood House, 80 S. River St., and The Cotton Seed Creative Exchange, 64 S. River St. Superjumbo, 102 E. Galena Blvd., will sell special t-shirts.
Altiro Latin Fusion, Craft Urban, La Quinta de los Reyes, Society 57, and Stolp Island Social will be offering special menu items.
More than 40 downtown businesses are participating.
Source: auroradowntown.org