Chicago is getting closer to eliminating tip pay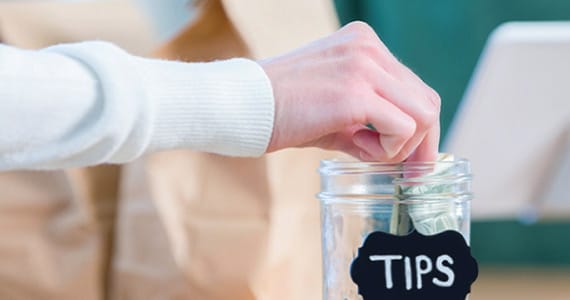 In Chicago, servers who depend mostly on gratuities may disappear by the end of the decade.
Why it matters: Tipped work (some lucrative, lots not) has been a part of our economy for more than 150 years, and ending it could massively shift how Chicagoans pay for services, run businesses and earn a living.
Plus, businesses — like restaurants, bars and salons — will probably have to raise prices to meet the new wage demands.
Driving the news: On Wednesday, the City Council Committee on Workforce Development is expected to introduce and advance a proposal to phase out the minimum wage for tipped workers (currently $9.48 an hour) over five years.
Under the plan, businesses would be required to increase tipped workers' wages by 8% annually until they're paid the same minimum wage as other employees in the city ($15.80).
Of note: Workers could still accept additional tips.
Catch up fast: The proposed ordinance was recently revised in a deal hammered out between Mayor Brandon Johnson, alders and the Illinois Restaurant Association (IRA).
It's part of a nationwide One Fair Wage campaign to end a two-tiered system in which some workers are paid at least minimum wage while others are paid a subminimum wage and expected to make most of their income in tips.
The IRA, which had long resisted OFW, agreed to back the proposal Monday night after negotiating a longer phase-in period.
What they're saying: "I can count votes, and I saw the writing on the wall," IRA president Sam Toia tells Axios. "I think they probably could have pushed this through with a two-year phase-in. The five-year phase-in is much easier to bake into [a restaurant's] numbers."
Toia expects restaurants will raise menu prices to accommodate the wage changes.
He worries that if OFW passes, some big restaurant groups might be discouraged from launching new locations in Chicago and opt for places like Texas, where the minimum wage for tipped workers is $2.13.
The other side: Saru Jayaraman, president of One Fair Wage, in a statement called the effort a "breakthrough," saying it serves as "an example of what is possible when workers, advocates and elected leaders with the political courage stand together."
The big picture: If the measure passes, Chicago would follow in the footsteps of California and D.C. The latter is phasing out its tipped minimum wage from $5.35 in May to at least $17 by 2027.
Some D.C. restaurants have started adding fees to diners' bills to help cover costs, Axios' Anna Spiegel tells us, which is creating tension over confusing service charges and higher prices. The D.C. attorney general started cracking down on "murky service fees" and recently set strict guidelines for businesses.
Toia believes diners will continue to tip but expects tips will fall, as they have at some spots in California and D.C.
What we're watching: If Johnson can pass OFW and Bring Chicago Home — his real estate transfer tax proposal to raise money for homeless services — during his first year in office, it will mark a swift shift to the left for city code and a delivery of key campaign promises.
What's next: If the compromise ordinance is approved in Wednesday's meeting, it will advance to a full council vote on Oct. 4. If it passes, incremental raises could start in July 2024.
Source: axios.com