Experts say airlines rules for animal travel can change soon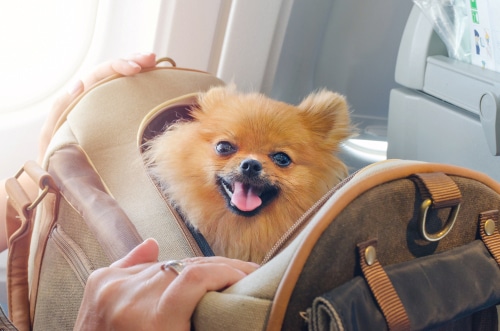 The US Department of Transportation released the proposed changes in the current rules for animals that can travel in the airlines' cabins in January. The current rules were facing a lot of abuse and there was a clear need for making necessary changes. Morgan Karol, the dog training manager at Freedom Service Dogs, said, "Traveling on airplanes can be stressful for those with services dogs."
Freedom Dog Services trains dogs to serve veterans with PTSD and people with mobility issues. The services dogs are trained in such a way that they can mitigate the disability of an individual. Freedom Dog Services help people live a normal life. Sharon Pinkerton, the senior vice-president of policy for airlines for America, said, "What we have seen over the last three years is a lot of abuse of the current rules."
Pinkerton works for the organization that advocates for airlines and employees. According to the statistics, an increase of 50% occurred in bringing animals on board by passengers between 2017 and 2018. Pinkerton said that it had become a joke about brining animals and trying to pass off as legitimate service animals.
People were seen bringing animals like the badgers, the snakes, the hives of bees, and many more onboard in the last few years. The trend of bringing animals to the cabins of airlines increased in the last three years. According to the proposed changes, the airlines will deny animals who act hostile. Some animals also pose a health threat and they will also be denied by the airlines.
The proposed changes said that psychiatric service animals were required to receive the same training as other service animals do. Pinkerton said, "Our crew has reported to us an increase in health conditions with defecation from untrained animals." The emotional animals will not be allowed on board after the implementation of the proposed changes. The US Department of Transportation seeks public comments on the proposal. The deadline for submitting comments is 60 days.