Huge Fire Destroyed House on Chicago's Southwest Side, 2 People Were Injured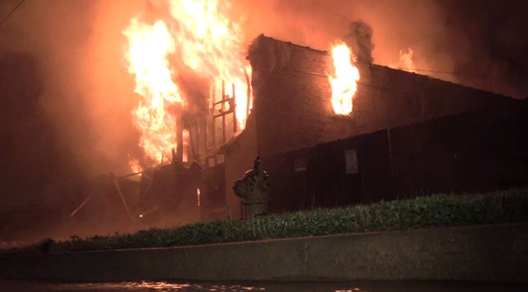 The whole night firemen fought fire at a building in the 2600 block of West 24th Street. Two people were hurt and got to the hospital.
The huge fire continued several hours and caught the whole building. According to the Chicago Fire Department, the firemen were afraid that the fire can spread quickly. They evacuated people from the houses nearby.
During the fire, at least two adults were injured. They escaped from the building by themselves but required medical attention. The man was overcome by the carbon monoxide and the woman got some burns. Both victims were hospitalized, information about their condition is not available.
The fire started near 2 a.m. and it took the firefighters more than 3 hours to put it out. Despite this, some hot spots were still smoldering. 100 firemen took part in this operation, but the building was absolutely destroyed.
Nereyda Guzman, the neighbor who lives next to the destroyed house, told that she had no ideas what could be the cause of ignition. She woke up in the middle of the night and saw that the house was on fire.
According to official information, the cause of the fire hasn`t been established yet.