Warren requests hearings on the failures of the Silicon Valley and Signature banks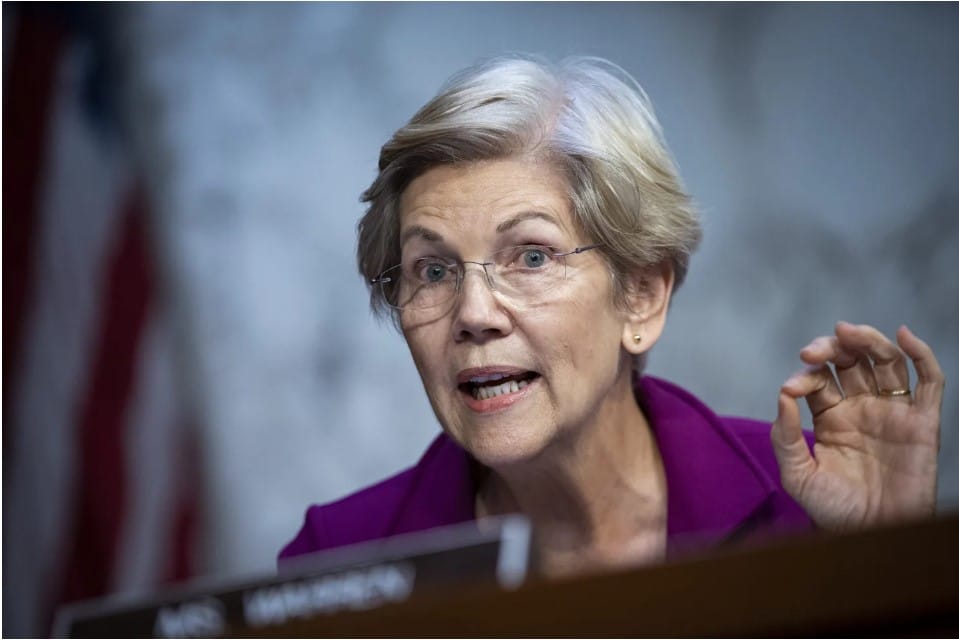 BLOOMBERG/GETTY IMAGES
Sen. Elizabeth Warren (D-Mass.) has requested that hearings be held in the Senate regarding the recent failure of two significant banks.
The Hill received confirmation from Sarafina Chitika, Warren's deputy communications director, saying the senator thinks the body ought to schedule hearings with testimony from the CEOs of Silicon Valley Bank and Signature Bank, both of which failed over the weekend.
The Huffington Post's senior politics correspondent Igor Bobic first the news of Warren's request for hearings. According to Bobic, Warren stated that senators should question the CEOs of the firms about "what went wrong" with them and their participation in attempting to have Dodd-Frank Wall Street Reform and Consumer Protection Act laws repealed "so they could load up their banks with risk."
The Dodd-Frank Act was passed by Congress and signed into law by President Obama in 2010 to tighten financial rules and stop the kinds of massive bank failures that were saw at the beginning of the Great Recession in the United States in 2008.
The end of last week saw the collapse of Silicon Valley Bank after it was unable to meet all of its clients' withdrawal requests due to a lack of available cash during a bank run.
When the Federal Deposit Insurance Corporation, which ordinarily protects up to $250,000 per account at the banks it controls, took control of the bank on Sunday, the federal government reacted.
On that same day, President Biden also declared that bank depositors would be able to retrieve their funds regardless of whether they had more than the $250,000 maximum. Yet he also promised that taxpayers would not foot the bill for any financial bailout.
During another bank run, New York state regulators closed down Signature Bank to protect depositors, making it the second significant bank to fail recently.
Warren has previously attacked Congress for a 2018 measure that she claims made the situation with the bank possible by rolling back some restrictions from the Dodd-Frank Act. In a New York Times op-ed, she claimed that the failures were "completely avoidable" and were brought on by the government's weakened banking regulations.
Republicans and several Democrats voted in favor of the Trump administration's plan, which permitted banks to hold less liquid assets and exempted those with assets under $250 billion from more stringent Federal Reserve examinations.
In recent days, Elizabeth and other liberals have criticized the deregulation law, claiming that it created financial risks. Warren voted against the law.
In a letter sent on Tuesday, Warren urged Greg Becker, the former CEO of Silicon Valley Bank, to respond to inquiries regarding his participation in lobbying Congress to repeal some Dodd-Frank requirements.
Source: thehill.com