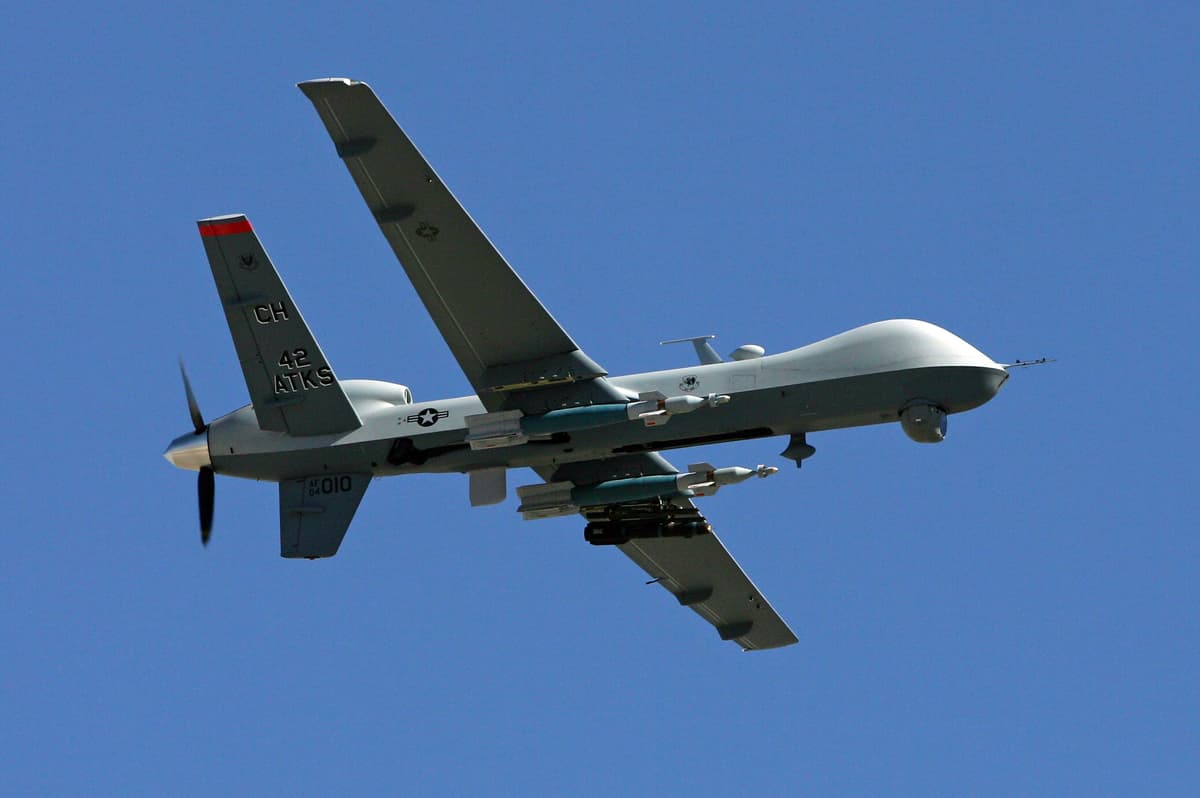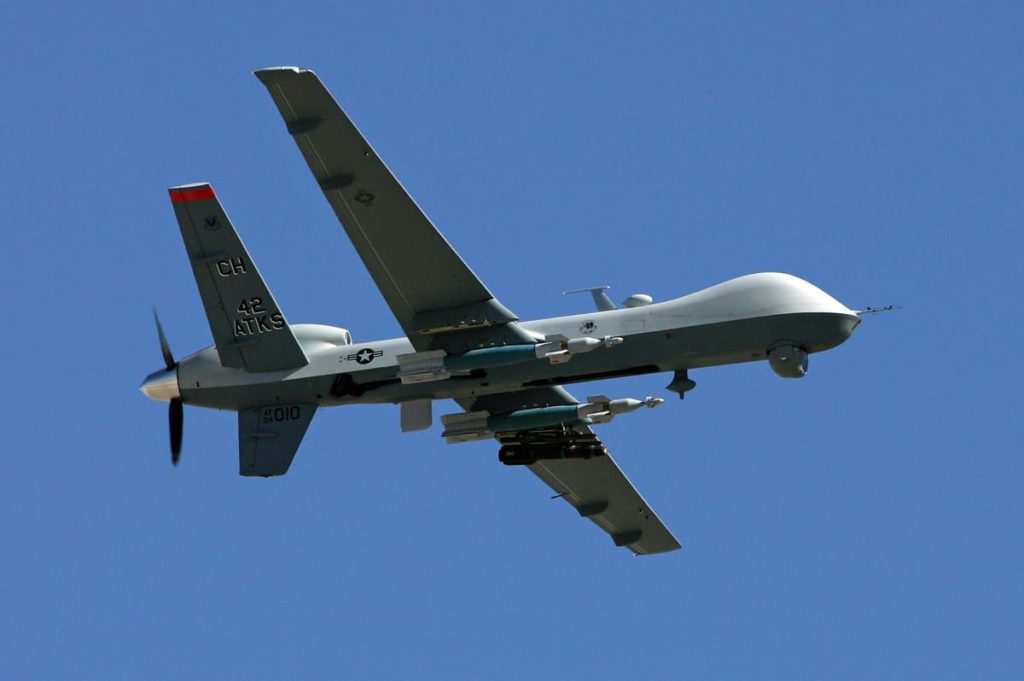 Getty Images
American officials confirmed that a Russian fighter jet downed a U.S. Air Force drone over the Black Sea on Tuesday, bringing down the American aircraft in what Military officials worried may result in an unforeseen escalation.
According to White House national security spokesperson John Kirby, President Biden was briefed on the event Tuesday morning. Kirby also described it as "unsafe" and "unprofessional."
"It is not uncommon for there to be intercepts by Russian aircraft of U.S. aircraft over the Black Sea," Kirby said. "And there have been, even in just recent weeks, there have been other intercepts. But this one obviously is noteworthy because of how unsafe and unprofessional it was … in causing the downing of one of our aircraft."
The U.S. MQ-9 Reaper drone was flying over international seas in the Black Sea accompanied by two Russian planes when one of the jets swooped in front of the drone and spilled fuel, according to a statement from U.S. European Command. The autonomous drone was then forced to land in the Black Sea when one of the jets destroyed its propeller.
"Our MQ-9 aircraft was conducting routine operations in international airspace when it was intercepted and hit by a Russian aircraft, resulting in a crash and complete loss of the MQ-9," Gen. James B. Hecker, commander of U.S. Air Forces Europe and Air Forces Africa, said in a statement. "In fact, this unsafe and unprofessional act by the Russians nearly caused both aircraft to crash."
According to the agency, the event took place at around 7:03 a.m. local time, which would have been just after 1 a.m. in Washington, D.C.
The U.S. European Command called the actions by the Russian pilots "dangerous" and noted that they "could lead to miscalculation and unintended escalation."
As a result of the Biden administration's sanctions and efforts to isolate Moscow for its invasion of Ukraine, there were already high levels of animosity between the United States and Russia at the time of the incident. According to Kirby, American operations over the Black Sea began more than a year before Russia's invasion really began.
"It's not uncommon for Russian intercepts of non-Russian aircraft over the Black Sea," Kirby said. "I want to stress that this MQ-9 was operating in international airspace over international waters and posed a threat to nobody, and it was an unsafe and unprofessional intercept."
Kirby stated that the State Department intended to contact Russian authorities to voice its concerns, though it was unclear if it had actually done so.
Kirby noted that despite Tuesday's incident, the U.S. would continue to fly over international waters and in international airspace, including over the Black Sea.
As a result of the ongoing hostilities between Washington and Moscow over Russia's invasion of Ukraine, the incident's consequences will be widely scrutinized.
Together with other European allies, the United States has also given Ukraine military and economic support in an effort to impede Russia's war effort in Ukraine. In response, Russian President Vladimir Putin asserted that backing Ukraine constituted to aggression against Russia.
But in order to prevent needless escalation in hostilities, Washington and Moscow have made an effort to maintain open lines of contact throughout the past year.
In a two-day period in February, American fighter jets twice intercepted Russian aircraft near Alaskan territory. According to US officials, the behavior was not considered provocative or a threat.
General David Berger, commandant of the Marine Corps, stated on Tuesday that the accident presented a concerning scenario.
"This is probably my biggest worry — both there and in the Pacific — is an aggressive Russia or China pilot or vessel captain or something gets too close, doesn't realize where they are, causes a collision, and it's two in the morning and we're trying to unpack this as fast as we can. I really worry about that," he said during a lunch at the National Press Club in Washington.
"In other words, either intentionally or unintentionally things bumping into each other, causing a collision and then two great nations, powerful nations, trying to sort it out at two in the morning," Berger added.
The State Department is in the process of calling Anatoly Antonov, the Russian ambassador to the United States, to the department to hear directly from senior officials about their strong objections to the "unsafe and unprofessional intercept on the part of a Russian aircraft," according to State Department spokesperson Ned Price.
Price continued by saying that the U.S. is unable to classify the Russian goals behind the downing of the American drone.
Price stated that the meeting with Antonov is scheduled to happen later on Tuesday afternoon and that Lynne Tracy, the American ambassador to Russia, has raised concerns with the Russian Ministry of Foreign Affairs in Moscow.
According to Price, the United States has also communicated at "high levels" with allies and partners to brief them on the incident, inform them of what the United States knows, and update them as new information is gathered.
Source: thehill.com