Bannering and Picketing Outside Construction Site of Amazon Fresh Store, Arlington Heights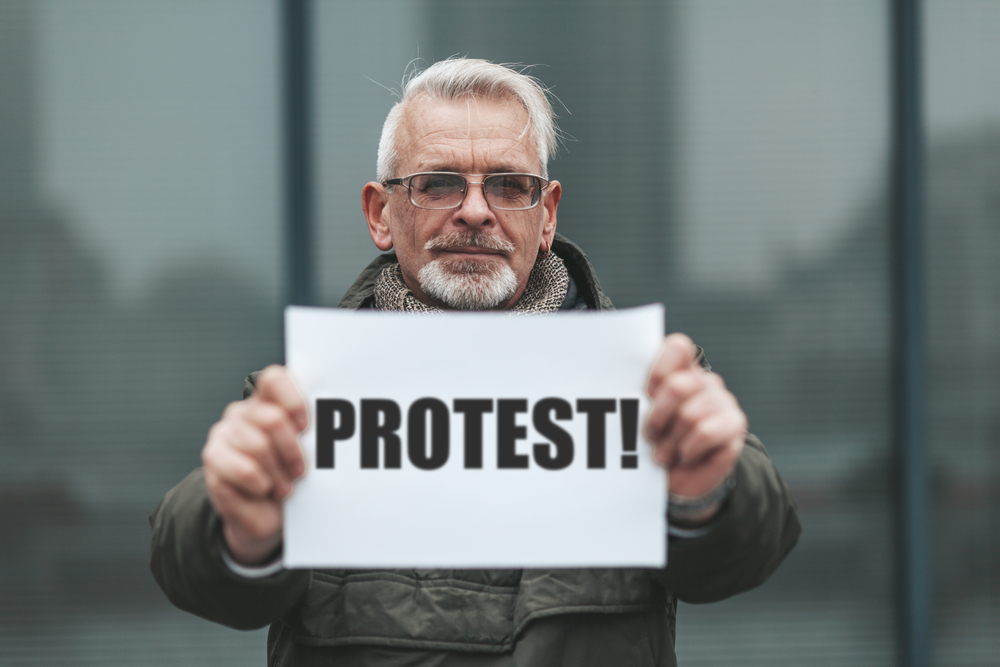 An apparent labor dispute brought out workers at the perimeter of the construction site at 325 East Palatine Road in Arlington Heights on Thursday, June 10, 2021. Two inflatable rats, an inflatable pig, and an inflatable fat cat were located in the parkways around Town & Country Mall. The labor dispute apparently was directed at the construction site and labor employed at the construction site where an Amazon Fresh store is being built at the former Dominick's site.
Bannering and picketing is legal at construction sites as long workers don't trespass on private property, and as long as participants are not confrontational with people working at the construction site. Most truck drivers, and some people traveling in private vehicles or on motorcycles honked their horns in support of the workers that were bannering and picketing at the site.
A sign near one inflatable rat said "Labor Dispute: Shame, Shame on Amazon" another sign near another rat from Local Union 134 I.B.E.W. said that an electric company at the site does not comply with area standards. The specifics of the labor dispute were not detailed and bannering and picketing participants and signs did not provide details of the labor dispute, but generally these type disputes involve accusations that non-union labor are being employed at lower wages at a construction site.
On Thursday morning electricians were picketing at the site. Sheet metal contractors and general labors were bannering at the site.
There is a difference between bannering and picketing.
According to the National Labor Relations Board, The National Labor Relations Act (NLRA) protects the right to strike or picket a primary employer – an employer with whom a union has a labor dispute. The act regarding Secondary Boycotts (Section 8(b)(4)) also seeks to keep neutral employers from being dragged into the fray. Thus, it is unlawful for a union to coerce a neutral employer to force it to cease doing business with a primary employer. That is only one aspect, however, of a complex legal picture, according to the National Labor Relations Board (NLRB).
According to the NLRB, picketing involves more than mere persuasion. "Picketing" includes what the word "picketing" typically calls to mind: persons patrolling at the entrance to a targeted business, carrying signs affixed to sticks. But it is not limited to such conduct. Picketing has been found where signs were stuck in a snow bank and people sat in nearby cars, getting out to answer questions or talk to delivery drivers. It has been found where there were no signs at all, simply a large crowd shouting appeals for action. On the other hand, some demonstrations and marches have been found not to be picketing when there were no signs or patrolling, according to the NLRB.
"Bannering" is not picketing and does not coerce or restrain for Section 8(b)(4)(ii) purposes.
Unions generally work toward better wages, better work conditions and better health and safety practices at workplaces. Studies have found more health and safety violations at non-unions sites compared to union construction sites.