Developers break ground on three-building $25 million mixed-income housing project on Chicago's Near North Side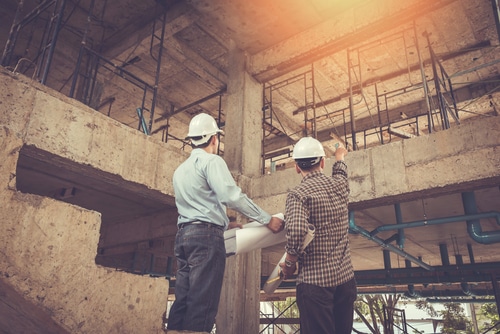 Evergreen Real Estate Group and Structured Development say they have started construction on Schiller Place Apartments, a three-building, 48-unit mixed-income rental community at 711, 731 and 749 W. Schiller St. on Chicago's Near North Side.
Located immediately south of Structured's NEWCITY development, on land that was formerly home of the Isham YMCA, Schiller Place will help preserve housing affordability in the Clybourn Corridor, the developers say in a statement.
GMA Construction, a Minority Business Enterprise (MBE), Veteran-Owned Small Business (VOSB) and Section 3 firm, is the project's general contractor. ArchitectBailey Edward designed the buildings.
Company representatives joined 27th Ward Ald. Walter Burnett Jr. and officials from the Chicago Housing Authority (CHA), Illinois Housing Development Authority (IHDA), Hudson Housing Capital, CIBC Bank and other partners at a socially distanced groundbreaking ceremony on Feb. 3.
"Schiller Place Apartments helps us continue the revitalization of this area while ensuring longtime residents are not displaced by new developments that, in recent years, have established the Clybourn Corridor as one of the top mixed-use districts in the city," said Mike Drew, founding principal of Structured Development. "With a portion of the units set aside as affordable housing, Schiller Place will allow more Chicagoans to enjoy the many amenities now available in this location, including improved riverfront access through the creation of the Wild Mile."
"The growing appeal of the Clybourn Corridor increases the need for housing that is affordable and accessible," said David Block, director of development for Evergreen Real Estate Group. "Our firm is honored to be partnering with Structured to provide this much-needed addition to the neighborhood, where residents will be steps from public transportation, retail, restaurants and recreation along the riverfront."
The four-storey buildings, each with 16 apartments, are being built on an approximately 26,000 sq. ft. vacant site.
There will be eight market-rate units and the remaining 40 units set aside for households earning between 30% and 60% of the Area Median Income (AMI).
The development team secured project-based vouchers for 24 units through the CHA. In addition, there will be five units with preference for veterans and an additional five units for individuals sourced through the Statewide Referral Network, which works with households earning at or below 30% of AMI with a head of household who has a disability or illness.
Project funding included: federal 4% Low Income Housing Tax Credits awarded by IHDA and syndicated by Hudson Housing Capital; Illinois Affordable Housing Tax Credits awarded by IHDA, syndicated by Clocktower Tax Credits and sponsored by Housing and Human Development Corp., which will provide on-site social services to residents; a permanent loan from the Illinois Affordable Housing Trust Fund provided by IHDA; predevelopment financing from IFF; construction financing from CIBC Bank; and a first mortgage from IHDA.