Illegal Possession of Handguns Charges for Three Convicted Felons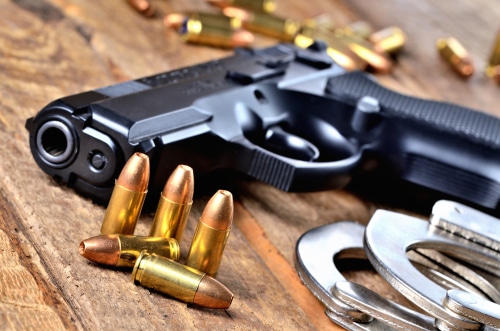 Indictments have been returned by a federal grand jury against three convicted felons for allegedly illegally possessing loaded handguns in Chicago. 20-year old Mitchell Agnew, 35-year old Carl Adams and 39-year old Roland Black are each charged with one count of illegal possession of a firearm by a convicted felon.
All three were previously convicted of criminal felonies and were not lawfully allowed to possess a firearm. On Wednesday, three separate indictments were returned in U.S. District Court in Chicago. All three defendants are in law enforcement custody.  Arraignments have not yet been scheduled.
John R. Lausch, Jr., United States Attorney for the Northern District of Illinois; Kristen deTineo, Special Agent-in-Charge of the Chicago Field Division of the U.S. Bureau of Alcohol, Tobacco, Firearms, and Explosives; James M. Gibbons, Special Agent-in-Charge of the Chicago office of the U.S. Immigration and Customs Enforcement's Homeland Security Investigations; and David Brown, Superintendent of the Chicago Police Department announced the indictments.
Assistant U.S. Attorney Cornelius S. Vandenberg is representing the government in the Agnew and Adams cases while Assistant U.S. Attorney Grayson S. Walker in the Black case. Department of Justice's violent crime reduction strategies- Project Guardian and Project Safe Neighborhoods'- centerpiece is holding gun offenders accountable through federal prosecution.
Investigating, prosecuting, and preventing gun crimes is the focus of Project Guardian. It emphasizes the importance of using modern technologies to promote gun crime intelligence. The Guardian and PSN programs have been deployed in the Northern District of Illinois, U.S. Attorney Lausch, and law enforcement partners.