League of Women Voters celebrate 100th anniversary of its foundation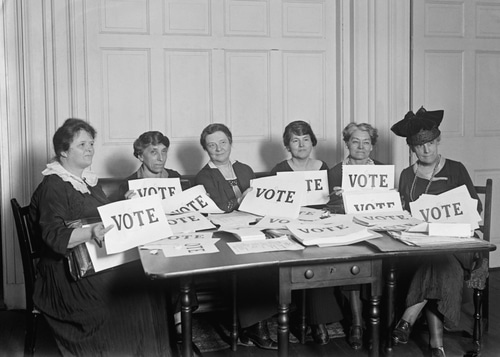 The League of Women Voters celebrated its 100th foundation anniversary on February 14. The celebrations took place at the birthplace of the League of Women Voters. Allyson Haut, the president of the League of Women Voters of Illinois, said, "This morning we are gathered in the room where it happened."
Hundreds of the members and supporters of the League gathered in the Gold Room of the Congress Plaza Hotel. Chapman Catt founded an organization of the national grassroots group on February 14, 1920. Ida B. Wells, a Chicago activist, has been granted belated recognition by the organization. The original league did not welcome African Americans in the beginning. The drive for the ratification of the Equal Rights Amendment is renewed through this celebration.
Audra Wilson, the executive director of the Illinois branch, acknowledged the fact that the league was less than welcoming to suffragettes of color. She added that things had changed and the celebrations were devoted to praising Wells. Juliana Stratton, the lieutenant governor of Illinois, said, "We must honor women like Ida B. Wells with our vote in this critical election year."
Stratton said that the threats were still looming around across the country in terms of women's right to vote. She focused on the health, safety, and availability of economic opportunities for women all across the US. She added, "We must never forget the women upon whose shoulders we stand." US Sen. Tammy Duckworth appreciated the hard work and progress of the League.
The League worked hard to ensure the US democracy of the people, for the people, and by the people. All people must have to be included in democracy regardless of their gender and color. Toni Preckwinkle, the president of the Cook County Board, also praised the hundred great years of the League. Wilson said, "The league is a nonpartisan organization because the right to vote is not a partisan issue."