San Diego's Iraq War veteran inspires people with his lost leg in war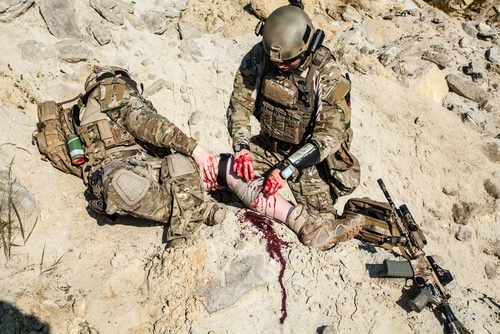 Doc Jacobs was medically retired from his position in the US Navy. He was a Navy Corpsman when he lost his leg in the Iraq war. The San Diego veteran is now accomplishing more in his life at the age of 34 than he has ever achieved in his life. Jacobs said, "I love being active because of that inspiration it gives other people."
Jacobs added, "I know a lot of people that I came across, they think that their time is up." Jacobs' platoon endured an IED explosion. It was the 18th month of his service in the US Navy when he lost his leg. According to him, he went through 78 surgeries after being injured in the explosion. He lost his left below the knee. Three toes of his right leg and three partial fingers form his left hand was also lost. Jacobs said, "It's so life-alerting, but it's not life-ending."
Jacobs was the first amputee corpsman who was assigned to an infantry unit. It was a historic achievement for him at that time. Jacobs did not stop serving others after getting medically retired. He participated in several marathons to support several non-profit organizations. He founded his own non-profit organization that provides sports scholarships to military children. His foundation is named "Doc Jacobs Foundation".
Jacobs is getting climbing training as he is committed to climbing Mount Kilimanjaro. His chosen paths will surely have a huge impact. Jacobs donated his kidney to a random person on November 5. Jacobs said, "I know I have given so much, a leg, three toes, three partial fingers, cartilage, why not?"
Jacobs saved the life of a stranger by donating his kidney. He said, "God gave me two for a reason. Why not share one?" He added that his decision would inspire people in a new way. Jacobs said that he was planning to write a book to inspire people facing challenges in their lives. He added that organ donation was the best way to save the lives of many other people and live on earth after death.