Tiffany Window acquired by Art Institute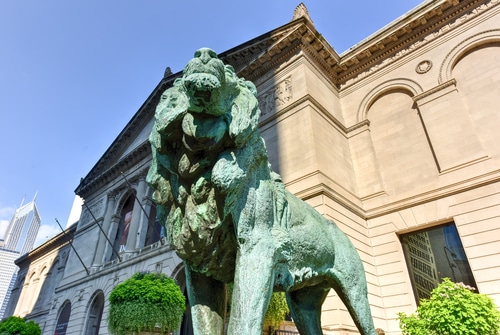 The Art Institute of Chicago has acquired an extraordinary memorial window. They have announced the acquisition, which is attributed to Agnes F. Northrop and made by Tiffany Studios in 1917. The window was originally commissioned for the Central Baptist Church (now known as Community Church of Providence) as the gift of Mary L. Hartwell in memory of her husband, Frederick W. Hartwell.
In the medium of stained glass, this window is a pinnacle achievement. Art Institute President and Eloise W. Martin Director James Rondeau shared: "It is with great pride we welcome this transformative work of art into the collection, an object that demonstrates the highest level of achievement in American glass production and exemplifies our ongoing commitment to excellence."
He added, "Tiffany Studios became synonymous with radiant materials and technical brilliance, and this monumental work of stained glass by the firm is an unparalleled example of beauty, ingenuity, and universality. Prominently installed in our galleries, with the rich architectural history of Chicago as a stunning backdrop, this singular work will certainly inspire visitors and undoubtedly has the power to become one of the museum's icons."
Agnes F. Northrop, the firm's leading landscape window designer, is attributed to being the designer of the window. The window is twenty-three feet high by sixteen feet wide. It is made up of 48 different panels. The scene depicts one of the most beloved peaks of the White Mountains in New Hampshire, the distant view of Mount Chocorua.
The mountain is memorialized as a powerful symbol of the American landscape by numerous landscape painters including Thomas Cole and John F. Kensett. The Community Church of Providence houses this majestic window. Pastor Evan Howard, speaking on behalf of the church said, "Our congregation decided to find a new home for the window where it could be experienced by a broad public audience that includes scholars, artists, and visitors from around the world. The church approached a number of different museums and ultimately selected the Art Institute of Chicago as the ideal institution to care for and display the window."