114-year-old historic bridge lifted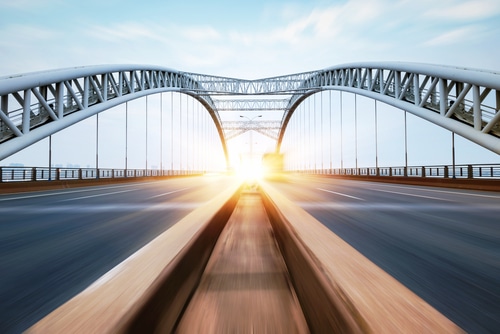 Complexity is an issue when performing any kind of maintenance on a 114-year-old bridge, but it is a whole another ball game when you have to lift the 40,000-pound bridge off its foundation. According to Illinois-based Stevenson Crane Service Inc. SCS, they provided the lifting capabilities for the recent and highly successful Robert Parker Coffin Road Bridge project in Long Grove, IL.
The bridge over Buffalo Creek is listed on the National Register of Historic Places. Due to a traffic accident several years ago, the bridge was damaged. It was built in 1906. The bridge is a rare surviving example of a construction method called a "pin-connected pony truss" bridge. On the bridge restoration project, SCS worked with crews from Woodstock, IL-based Alliance Contractors Inc., and Marengo, IL-based Carmichael Construction Inc.
The bridge was lifted off its foundation by the workers. They set it temporarily on a flatbed truck as they conducted repairs to the concrete support structures and performed other necessary painting work. A  Liebherr 500-ton crane was used by SCS to lift the bridge.
"This was such a great project to be a part of," said Curt Slipke, vice-president, sales at SCS. "I'm not sure many companies get the chance to lift more than 114 years of history – that was a great experience. Our hope is the bridge will continue to serve Long Grove for another 100 years."
The bridge has been returned to its normal position. The workers are completing the final touches. They will also be installing a new wooden cover. A structural steel skeleton will also be installed to provide additional protection for the future. The contracts for the project amounted to around $915,000. It is scheduled to be fully completed in July.