AECOM completes first phase of transforming McCormick Place into COVID-19 care center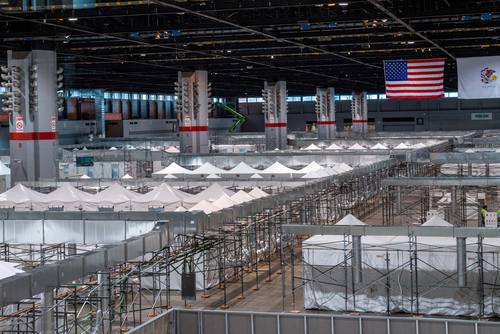 Jason Whitman / Shutterstock.com
The first phase of the transformation of Chicago's McCormick Place into a COVID-19 cure facility has been completed by AECOM. AECOM said in a press release on Monday that the patients who tested positive would be kept in the Facility for alternative care.
AECOM received a Notice to proceed fourteen days ago. McCormick Place Alternative Care Facility has admitted the first patient after the fourteen days of the Notice. The Facility has the capability of 500 beds for the COVID-19 positive patients. Michael S. Burke, the chairman and CEO of AECOM, said, "We are proud that AECOM and a talented group of partners could rapidly mobilize in support of the greater Chicago community."
Burke said that the aim of his company was to support the states, cities, and communities of the United States during the coronavirus pandemic. The company is working on expanding health care capabilities and building resilience all across the US. The local healthcare systems have huge burden of taking care of the patients affected by the virus in a huge proportion.
AECOM took the responsibility of reducing the burden on the local healthcare systems through the delivery of Owner Representative services. The company was responsible for ensuring a fully operational facility capable of taking care of COVID-19 patients. The completion of the first phase of the McCormick Place Alternative Care Facility will enable healthcare workers to take care of the patients safely and effectively.
The City of Chicago directed AECOM to start working on the development of the Facility on April 1. The Illinois National Guard and the Army Corps of Engineers are working alongside AECOM on the project. According to the AECOM officials, the next phase of 500 beds will be completed by the end of April. It is a hard time for the US, and AECOM is playing a crucial role to get rid of the COVID-19 crisis.