City officials scale back plans for McCormick Place Alternative Care Facility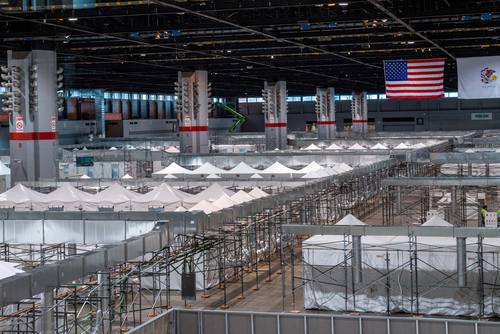 Jason Whitman / Shutterstock.com
The plans for the McCormick Place Alternative Care Facility have been scaled back by the City and state officials. It shows that Illinois has successfully flattened the curve of increasing coronavirus infections in the state. JB Pritzker, the governor of Illinois, stated the goal of testing at least 10000 Illinoisans over the weekend. The daily testing remained above the Pritzker's stated goal over the weekend.
The state officials reported 59 new deaths on Sunday. With the addition of these 59 deaths, the total COVID-19-related deaths in Illinois topped 1933. The state confirmed more than 2000 cases both on Saturday and Sunday. The total number of confirmed cases in Illinois reached 43903. After these stats, the Chicago and Illinois officials scaled back their plan to convert the McCormick Place into an alternative care facility for the patients who are less severely ill.
The city and state officials announced last month that they would convert the McCormick Place into 3000 beds alternative care facility. The McCormick Place has 1000 beds in two halls at the moment. Pritzker announced over the weekend that they would hold back at the moment. He also said that they were scaling back on the plan of converting another big hall into a 1750 beds care facility for the COVID-19 patients.
The health officials of Illinois said over the weekend that the number of hospitalized patients in the state held steady. Similarly, the number of COVID-19 patients in the Intensive Care Unit or on a ventilator also held steady.
The health officials were hoping to keep COVID-19 patients from overwhelming the hospital system. In this case, there would be no need for alternative care facilities. Dr. Ngozi Ezike, the director of the Illinois Public Health, said last week, "Less than a dozen patients have been transferred to McCormick Place." Pritzker said on Friday that they were not looking for any plan to reopen Vibra Hospital.