Black rhino gives birth on Christmas Eve at Michigan's zoo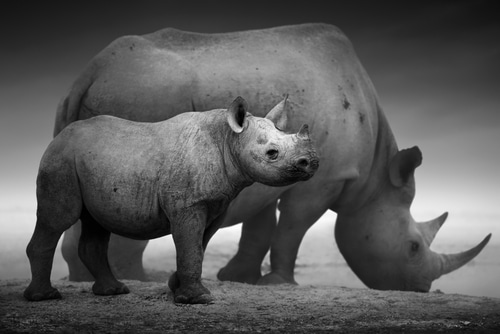 The story of the black rhino of Michigan's zoo is full of feelings. A black rhino of the zoo gave birth on Christmas eve. It was the first time when the zoo welcomed a newly born black rhino is its 100-year history. The black rhino, an endangered species, gave birth on December 24 at 5:40 am. Doppsee, a 12-year-old female black rhino of the Potter Park zoo, gave birth for the first time.
The zoo officials said that Doppsee gave birth to a male calf and he was doing well. According to zoo officials, the calf stood on his feet after an hour and a half of his birth. The zoo officials are taking good care of the health of Doppsee and his child.
Dr. Ronan Eustace, a Potter Park Zoo veterinarian, "As this is Doppsee's first pregnancy, the animal care and veterinary staff will continue to monitor Doppsee and her calf closely in the next few weeks." Dr. Eustace said that the male calf appeared healthy after his birth. The zoo is focusing on the bonding between Doppsee and her child. The male calf will be viewable to the public after spring 2020.
The pictures and videos of Doppsee and her child will be available on the Facebook and Instagram pages of the Potter Park Zoo. The social media handlers of the zoo will keep uploading the pictures and videos of the two during their bonding stage. The Potter Park Zoo updated in social media, "For the first time in our 100-year history, a black rhino calf has been born at Potter Park zoo".
According to the zoo officials, there are only 50 black rhinos present in the zoos accredited by the AZA. They added that there were only black rhinos who were born in human care each year. Potter Park Zoo updated on its blog that there were only 5000 rhinos alive in the wild. Cynthia Wagner, the director of Potter Park Zoo, said, "This is a monumental moment for Potter Park Zoo that has taken our staff years of planning and hard work." Wagner said that they were excited about the newly born male calf.