Chicago Executive Airport approves land for new airplane hangar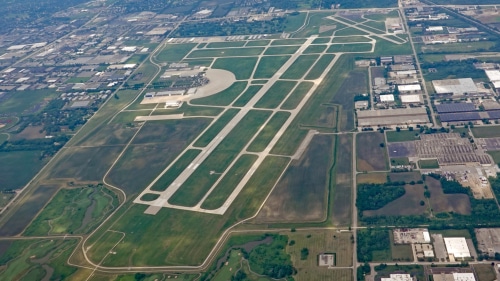 Thomas Barrat / Shutterstock.com
The Board of Directors of the Chicago Executive Airport (CEA) announced the approval of land lease with Atlantic Aviation for the 2020 construction of a new airplane hangar. Atlantic Aviation is a ground service provider for private and business aviation. It is also working as one of the three fixed-base operators (FBO) on the CEA.
According to the sources, the construction of new hangar, Hangar 43, will be done on an area of 3.6 acres. The project includes the construction of business offices, parking, shopping areas, and open hangar spaces. It also includes the expansion of the current aircraft ramp. The Atlantic's facilities will be increased to over 113000 square feet after the completion of this project.
After the addition of Hangar 43, the Atlantic's campus will be expanded to over 13 acres. Three hangars are currently operated by the Atlantic Aviation along Wolf Road. The passenger terminal area and the airport ramp are also operated by the company. According to the Board of Directors, the leases of the three current hangars will be extended 10 years.
The extension of the current leases and the construction of new hangar will provide benefits to the Atlantic Aviation. The Atlantic will be able to accommodate more aviation customers and businesses. George Sakas, the director of the economic development and strategic planning of the CEA, said in a press release, "A newly-constructed hangar exemplifies the recent growth and improvement of Chicago Executive Airport."
The FBOs on the CEA are committed to expanding the operations at the airport for the next 40 years. The construction of the new hangar will attract more businesses and customers. It will also bring new airport jobs and generate more revenue. A recent study revealed that the CEA generated more than $400 million in revenue in the form of total economic output. The northwest Chicagoland got more than 1800 jobs through the CEA.