Chicago Man Arrested for Allegedly Setting Chicago Police Vehicle on Fire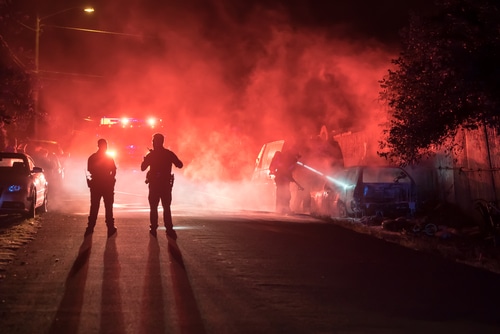 A Chicago man has been arrested on federal arson charge for allegedly setting a Chicago Police Department vehicle on fire this weekend. According to a criminal complaint and affidavit filed in U.S. District Court in Chicago, Timothy O'Donnell had placed a lit object into the gas tank of the marked police vehicle as it was parked in the 200 block of North State Street in downtown Chicago on Saturday.
The vehicle had ignited in flames. When O'Donnell set the vehicle on fire, the police officers were investigating reports of various malfeasances and unrest in the area. The complaint states that O'Donnell while setting the fire, was wearing a "joker" mask that partially covered his face. The 31-year old O'Donnell is charged with one count of arson. O'Donnell was arrested this afternoon by the federal authorities.
The federal authorities are carrying out a court-authorized search of his residence. An initial appearance in federal court in Chicago has not yet been scheduled. John R. Lausch, Jr., United States Attorney for the Northern District of Illinois; David Brown, Superintendent of the Chicago Police Department; and Emmerson Buie, Jr., Special Agent-in-Charge of the Chicago office of the FBI announced the arrest and the complaint.
Assistant U.S. Attorneys James P. Durkin and Rajnath Laud is representing the government. U.S. Attorney Lausch said, "Anyone involved in destructive behavior – such as setting fire to a police car – should know that federal law enforcement will use all tools available to us to hold them accountable."
He added, "We will continue to work with the Chicago Police Department and our federal and state partners to apprehend and charge arsonists and others engaging in violent crime."