Illegal Possession of Loaded Handgun Charges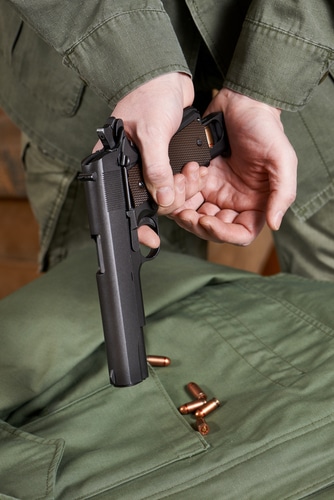 A man is facing federal firearm charges for allegedly illegally possessing a loaded semiautomatic handgun in Chicago this past weekend. On early Monday, Adam Walton was arrested near the 11700 block of South Marshfield Avenue. According to a criminal complaint filed in U.S. District Court in Chicago, Chicago Police officers observed him exiting a store through a broken window.
The complaint states that he was taken into custody while in possession of a loaded semiautomatic handgun and a case of .22-caliber long-rifle ammunition. A city of Chicago curfew took effect at 9:00 p.m. Sunday. Walton was arrested more than three hours later. The 40-year old Chicago resident is charged with one count of illegal possession of a firearm by a convicted felon.
Walton had run-ins with the law as he was previously convicted of multiple criminal felonies, including two firearm-related offenses. Thus, he was not lawfully allowed to possess a firearm. An initial appearance in federal court in Chicago has not yet been scheduled.
John R. Lausch, Jr., United States Attorney for the Northern District of Illinois; Emmerson Buie, Jr., Special Agent-in-Charge of the Chicago office of the FBI; and David Brown, Superintendent of the Chicago Police Department announced the federal charge. Cook County State's Attorney's Office provided valuable assistance in bringing this charge.
Assistant U.S. Attorney Paul Mower represented the government. Project Guardian and Project Safe Neighborhoods' centerpiece is to make holding gun offenders accountable through federal prosecution. Both projects are the Department of Justice's violent crime reduction strategies. The public is reminded that these are allegations and the defendants are considered innocent until proven guilty.