COVID-19 pandemic starts taking toll on Construction employment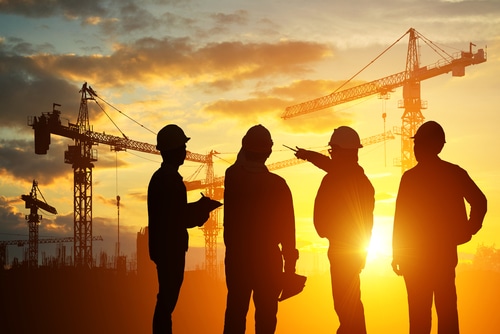 The Coronavirus pandemic is showing its effect as Construction employment has declined in 99 out of 358 metro areas from March 2019 to last month. The first shutdown orders and project cancellations triggered this downfall, according to an analysis released by the Associated General Contractors of America on April 28.
Federal and state officials are urged by the Association officials to help put more people to work amid rising unemployment levels by boosting investments in infrastructure. Data for Illinois communities are below. The listings showed the number of employees in March 2019, March 2020, the percentage growth rate, the actual employment increase (or decrease), and the national ranking. The data saw Chicago and Illinois on the down side.
Champaign-Urbana, IL Mining, Logging, and Construction 3,400 3,500 3% 100 123
Davenport-Moline-Rock Island, IA-IL Mining, Logging, and Construction 9,300 9,500 2% 200 150
Rockford, IL Mining, Logging, and Construction 4,800 4,900 2% 100 150
Danville, IL Mining, Logging, and Construction 500 500 0% 0 206
Decatur, IL Mining, Logging, and Construction 2,900 2,900 0% 0 206
Elgin, IL Div. Construction 12,800 12,700 -1% -100 261
Lake County-Kenosha County, IL-WI Div. Construction 14,500 14,300 -1% -200 261
Louis, MO-IL Mining, Logging, and Construction 65,700 65,000 -1% -700 261
Chicago-Naperville-Arlington Heights, IL Div. Construction 123,700 121,800 -2% -1,900 272
Peoria, IL Mining, Logging, and Construction 7,000 6,800 -3% -200 288
Kankakee, IL Mining, Logging, and Construction 1,200 1,100 -8% -100 340
Springfield, IL Mining, Logging, and Construction 3,300 2,800 -15% -500 356
Ken Simonson, the association's chief economist, said, "These new figures foreshadow even larger declines in construction employment throughout the country as the pandemic's economic damage grows more severe." He added, "Unfortunately, the data for April and later months are sure to be much worse. In our latest survey, more than one-third of firms report they had furloughed or terminated workers—a direct result of growing cancellations."