Crack occurred in the protective layer of the Willis Tower's Skydeck Ledge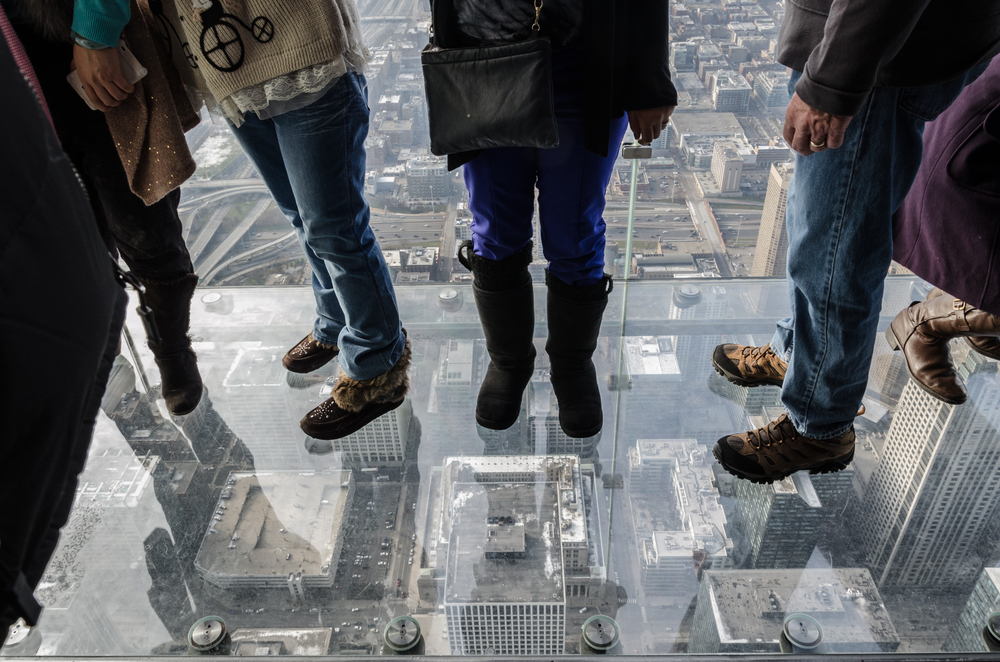 Methanon / Shutterstock.com
The protective layer of the Skydeck ledge of Willis Tower cracked under the feet of the visitors. It was another sky-high scare at the Willis Tower when the protective layer cracked while visitors were standing there. The video of the incident has been captured. In the video, it can be seen that the protective layer of the ledge splintered into several pieces on the 103rd floor of the Willis Tower.
The glass bottom is covered by the protective layer. The Willis Tower officials gave a statement in which they said, "The protective layer did what was supposed to be done by it and no one was even in a smaller danger". Jesus Pintado, witness of the crack, said, "There was a woman standing there with her kids and they got scared and paled due to the crack of the protective layer".
Karly Pintado, another witness, said, "I usually got scared of height and when I saw these visuals, I said to me that no and not going on". It is not the first time when a crack occurred in the protective layer of Willis Tower's ledge. The same happened back in May, 2014 when the window of the same ledge got cracked.
The Willis Tower officials said that their engineer is inspecting the reasons behind the crack. The officials looked confident that there was nothing dangerous and no one was at risk. The protective layer is supposed to protect from the harm and it did this time, according to the Willis Tower.
The visitors got shocked when the crack occurred at such a height. The crack occurred at the 103rd floor of the tower. The protective layer covers the glass bottom which lies below. The same crack occurred in the past as well in 2014 when the window of the same ledge got cracked. The scene in the video looked quite scary as the protective layer splintered into thousands of pieces.