Downtown Aurora booms in 2019 with 16 grand openings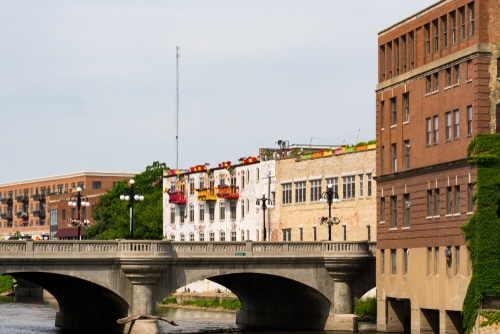 2019 proved to be a booming year for downtown Aurora. 16 grand openings happened in downtown Aurora in 2019 apart from other highlights. Teresa Fiehn Millies, a downtown Aurora resident, opened a private artist and energy studio, Arcana, in April. Millies is a famous name of downtown Aurora in the field of art projects. She was given some of the amazing art projects by downtown Aurora including a crocheted butterfly on the fence of Downer Palace.
She also completed the project of fabric wrapping the former trees at Beilman Park. Shannon Cameron directed the opening of the Paramount School of Arts in June at 21 S. Broadway. The venue offers summer classes and performing arts classes year-around. Some other businesses also opened during the year 2019 around Broadway including The Cotton Seed Creative Exchange, Latrice Murphy Design and Photography, L & L Vintage, and Fonda mi Pueblito.
The Silver Plate building at the northeast corner of Downer Palace and Stolp Avenue witnessed the opening of Silver Spoon Creamery of Charlie. At 55 S. Lake St., Mark Allen brought a wide mix of vendors in the form of Warehouse 55 in September. Warehouse 55 offers a huge variety of home goods, clothing, and furniture.
At 7 S. Broadway, Gary Brown Art Gallery and Studio opened its business during First Fridays. Scott Hodge and Tammy Helfrich opened Society 57 at 100 S. River St. The venue offers event space and a full-time coffee shop. It has become a community gathering spot of downtown Aurora.
Mangkuk Filipino Asian Fusion Restaurant started its business at 210 E. Galena Blvd. a few weeks ago. A tarot and reiki room, I of the Angeles, opened at 217 E. Galena Blvd. a few months ago. An exceptional residential development is ongoing from Broadway to Stolp. A community has been building up in downtown Aurora with the growth of downtown. Some of the amazing businesses call downtown Aurora their home and it is quite an appreciative thing for all of us.