Mola mola fish stuns whale watchers in San Diego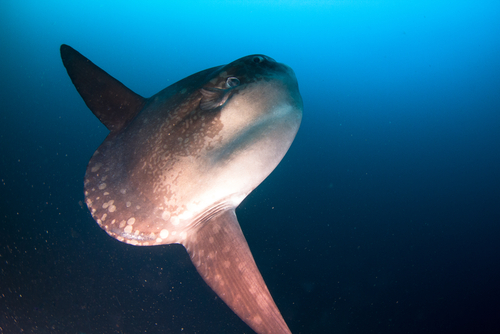 A huge Mola mola fish was spotted in San Diego waters this week. The sight of a giant fish stunned the whale watchers in San Diego. Mola mola fish is also known as Sunfish. It looks like a giant fish head with fins.
Domenic Biagini, the captain and owner of Gone Whale Watching San Diego, said that he was specialized in giving the people once in a lifetime encounter. He added that he always gave an opening speech to the whale watchers on every trip. Biagini said that he always told people in the opening speech that he would show them anything that moved.
He showed the spectators massive Mola mola on this trip. The giant fish stole the show on this trip. The Mola mola fish is common in San Diego waters, according to Biagini. The length of the Mola mola fish is 2-3 feet long in our water, he said. It was a 7 to 8 feet long Sunfish and the scene was spectacular. The spectators were stunned when they watched a giant Sunfish.
Biagini said, "When we came across this specific one, we were kind of blown away by the sheer magnitude of it." The swimmer present on Biagini's boat went into the water to swim with Mola mola. They said that mola is one of the prized fish to swim with. There were many scuba divers and free-divers on the boat that day, according to Biagini. It was a lottery for the free-divers and scuba divers to swim with such a giant fish. Biagini said, "It was my equivalent of finding killer whales."
A female Mola mola fish can release more than 300 million eggs. We do not have much information about them as a lot is unknown about them so far. Some researchers suggested that the Sunfish was a strong swimmer. The fish are known for drifting in the water and basking in the sun. A Sunfish can grow up to an area of 14 feet by 10 feet, according to Amanda Brandies, a news writer for the KGTV. It is a rare experience to watch a giant Mola mola fish. The Mola mola fish stole the show for Gone Whale Watching San Diego.