November-Full of Exhibitions Openings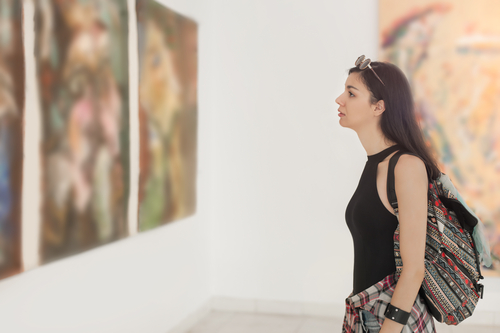 Chicago will see significant new exhibitions opening up. Many galleries will be opening major shows that will be their final exhibitions of the year. The virtual opening of Intersect Chicago (formerly SOFA) will take place online instead of on Navy Pier, Nov 6–12, with a virtual preview party on Thursday, November 5.
We are highlighting some of the exhibitions opening up. The exhibitions' art will be fresh air after a long week/election season/year.
What black is this you say? Rhona Hoffman Gallery. Nov 6-Dec19. More than 40 new watercolor, oil, and mixed media paintings interrogate the complexities, variations, and degrees of difference in black as color and identity.
Royal Specter: Kajahl Monique Meloche. Nov 7–Dec 19. Kajahl's oil paintings merge icons from parallel histories along with his own constructed mythology prodding the viewer to re-examine mainstream historical paradigms.
Biala: Intimacy & Exile Paintings 1952-1962. McCormick Gallery. Nov 7-Jan 9. Biala is an important figure of historic scale. Biala's career stretched over eight decades.
The Long Dream. Museum of Contemporary Art. Nov 7–Jan 17. The Museum of Contemporary Art Chicago is presenting The Long Dream. The current movement of pandemic and social unrest inspires the exhibition. Over 70 Chicago artists are featured in the exhibition.
The Imaginative World of Heorhii Narbut and The Making of A Brand. Ukrainian Institute of Modern Art (UIMA). Nov 7–Dec 15. This exhibition will be featuring works of Narbut along with his followers' work.
Bea Nettles: Harvest of Memory. Krannert Art Museum. Nov 5–Mar 6. Multi-media artist Bea Nettles had pushed the boundaries of what was considered photography. Nettles used alternative photographic processes like liquid light, cyanotype, Kwik Print, dye transfer as well as traditional "women's" mediums like sewing and crocheting.