Portillo are offering a very special discount on their Birthday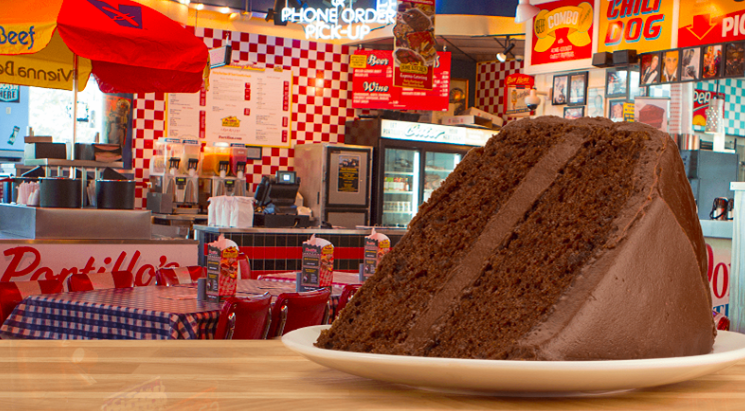 What better way to celebrate your birthday by giving people 56-cent chocolate cake?
Yes, you heard it right. Portillo are giving this special treat on their birthday.
The 56-cent chocolate cake is offered as it will be their 56th birthday.
The chocolate cake is no ordinary cake. It is their 'Famous Chocolate Cake'.
Portillo have a history of going all out on their birthday and they are sticking with their traditions again this year.
They offered the same treat on their 55th birthday by giving the faithful customers 55-cent cakes.
The Chicago-based hot dog purveyor are not breaking their tradition this year.
The birthday will be on April 9 and the customers can get their piece of slice with the purchase of any sandwich, hot dog, entrée salad, pasta or ribs.
Portillo's CEO, Michael Osanloo have announced this special treat in a statement. He said that this is their yearly tradition and they like to show their appreciation to the fans with this discounted offer.
He said that he doesn't know any other way to mark the milestone.
There will be no discrimination on this festive day as Portillo will give the cake on all their locations.
The cake will be also be given on the online orders as well. One slice will be given to one order a piece.
The cake will be given while the supplies last.
The customers may have to pay one more cent than last year but they are not complaining. To get a slice of their famous 'Famous Chocolate Cake' for 56 cents is a complete bargain.
There is more good news for the people of Chicago from Portillo. They will be opening their third restaurant in the region at Addison and Kimball.
You don't have to wait much as the new addition will open this year.
Don't forget, the birthday celebration is on April 9.