There is a contest to see who can replace Tucker Carlson in the most insane way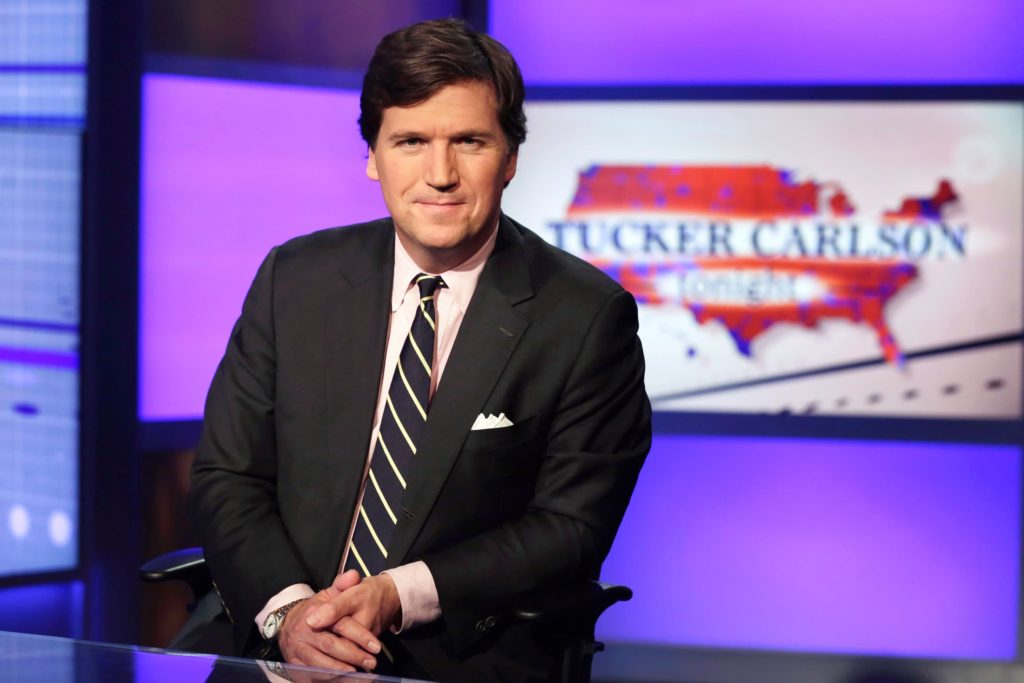 https://www.google.com/url?sa=i&url=https%3A%2F%2Fwww.cnbc.com%2F2023%2F04%2F24%2Ftucker-carlson-leaves-fox-news-in-wake-of-dominion-defamation-settlement.html&psig=AOvVaw3jQY8s1t0YBaGk7c9Qwwt0&ust=1682593090241000&source=images&cd=vfe&ved=0CBEQjRxqFwoTCNDWiu-xx_4CFQAAAAAdAAAAABAD
The weaker channel looks for a fresh face since it has no other options.
Fox News' sudden, unexpected and unexplained Monday firing of star host Tucker Carlson is a seismic event in U.S. politics and media. The rationale for ousting the most powerful commentator in right-wing media remains obscure. But whatever the reason, the move leaves Fox in an unusually vulnerable position. By cutting ties with its most prominent figure, Fox has exposed the weakness in its business model: The network's viewers demand increasingly extreme and irresponsible content that its advertisers and other partners are loath to support. And Fox has revealed this flaw at the worst possible time for the channel.
Carlson has demonstrated a gift for Fox's core competency of keeping viewers from changing the channel by making them angry, aggrieved and afraid. He reportedly scrutinized Fox's "minute-by-minute" ratings data for his program, helping him to maximize ratings by creating the most potent possible blend of demagoguery and resentment.
The result was record viewership and immense influence within the right-wing movement and the Republican Party. The show served as a conveyor belt moving toxic narratives and extremist personalities from the right's fringes to its mainstream. Conspiracy theories like the purported "great replacement" of white Americans, unsafe Covid-19 vaccines and government incitement of the Jan. 6 insurrection, which originated in internet fever swamps, were mainstreamed by Carlson's show, quickly becoming viewed as acceptable within the GOP ranks. So did the blood-and-soil nationalism of European autocracy, which he promoted.
Carlson's unusually potent personal brand proved valuable for Fox. When the network suffered a post-election ratings swoon as it took fire from the right for insufficiently supporting Donald Trump, its executives responded by making Carlson its new face. He became the linchpin of Fox's online expansion, garnering a three-times-a-week streaming show and the resources to produce regular documentary specials like "Patriot Purge," his revisionist take on the storming of the U.S. Capitol. Subscriptions to the Fox Nation service began rising dramatically after Carlson's role expanded.
But Carlson's defenestration damages Fox's hegemony over conservative media. The network's right-wing competitors swiftly moved to portray his firing as evidence of a "woke" turn at Fox, assuredly hoping to carve off some of the network's market share for their own. Glenn Beck, who launched the right-wing cable and streaming network TheBlaze after his own exit from Fox, called the network's move "suicidal," while other influential figures on the right called for a boycott. Newsmax, perhaps Fox's biggest TV rival, ran a string of segments on the move; its CEO, Christopher Ruddy, told Newsweek, "Millions of viewers who liked the old Fox News have made the switch to Newsmax, and this will only fuel that trend."
Fox would be in a better position to fend off these salvos if it had a great replacement ready to step into Carlson's time slot. When the network fired longtime 8 p.m. stalwart Bill O'Reilly in 2017, it announced simultaneously that Carlson would succeed him.
But this time, Fox has no backup plan in place. Instead, the network will be trying out guest hosts for at least the next several weeks, as it did in 2021 after removing Martha MacCallum from the 7 p.m. time slot eventually claimed by Jesse Watters. Longtime "Fox & Friends" co-host Brian Kilmeade leads off the search this week; in-house commentators like Pete Hegseth and Will Cain can be expected to follow. Each will try to win the gig by maximizing viewers — and the surefire way to keep Carlson's audience is by aping his bigoted content and incendiary style as much as possible. It'll be a shootout between candidates competing to be the most unhinged and irresponsible.
Those incentives are diametrically opposed to the interests of Fox's business partners. Fox assembled its massive audience with propaganda and demagoguery — but it monetizes those viewers through commercials and cable carriage contracts.
Carlson's toxic content, like that of his prime-time colleagues, drove away major advertisers, leaving its commercial segments largely filled by ads for election-denier Mike Lindell's MyPillow, direct-to-consumer products and Fox News itself. Big companies carefully manage risks to their brands and prefer to support programs that aren't drenched in racist conspiracy theories. Carlson's removal might seem at first like a step forward on this front — but it also means that Fox's flagship time slot is now in tumult, with the content unlikely to dramatically improve because of the audience's demands. And the clock is ticking before this year's upfronts, during which Fox typically hopes to sell the lion's share of its ads for the next year.
Fox does remain immensely profitable in spite of its advertiser woes, thanks to lucrative contracts with cable carriers. The network is renegotiating several of its most important deals this year and hoping not only to hold steady, but to dramatically increase its already sky-high fees. The network's executives may hope that Carlson's firing improves their hand in the talks by removing the most prominent example of its extremism. But Fox traditionally puts the hammer down in these disputes by getting their viewers involved, and the audience may prove less willing to participate after his dismissal. That potential apathy will be matched by cable news consumers who don't want to pay more for a channel exposed in the massive Dominion settlement as a propaganda network, not a news outlet.
We still don't know why Fox ultimately decided to part with its biggest star. But the move leaves the network weakened, without obvious paths to secure its position — and primed for long-overdue accountability.
Source: www.msnbc.com