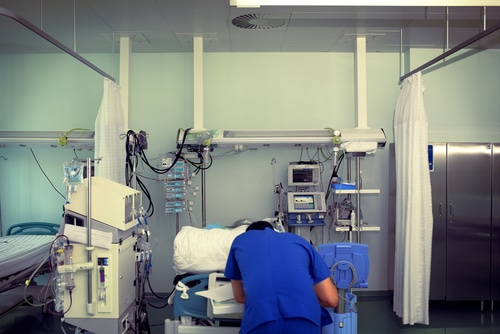 These days, drug use in Washington Square Park in New York is a pretty open topic. People can be seen smoking, injecting themselves and their bench companions, and even making methamphetamine on the park benches. They did it quietly one recent Sunday morning.
But for a casual visitor, the biggest surprise is something else. A number of the folks at the park have skin wounds that are red and black. This past weekend, at least one incident appeared to disclose portions of human tendons.
The horrific scene was probably caused by witnessing someone's use of the veterinary tranquilizer xylazine, sometimes known as "tranq." Xylazine (pronounced "ZY-la-zeen") is commonly referred to as the "zombie drug" in recognition of its flesh-eating qualities. It is frequently combined with the synthetic opioid fentanyl and is relatively easy to obtain.
It's not an exaggeration to suggest that the horrifying physical effects of this horse tranquilizer on humans remind one of the fictitious scars seen on individuals in the dystopian television series "The Last of Us."
In both New York and Chicago, the usage of xylazine, which has not been FDA-approved for use in humans, is becoming a major issue. Why do people combine these two drugs? In essence, xylazine prolongs the time that the fentanyl high lasts. Additionally, the production of this horrible concoction improves revenue for those who profit from the suffering of others.
Given the size and complexity of the human toll caused by the fentanyl crisis, it was widely agreed upon at a recent American Press Institute-sponsored gathering of editorial page editors in Texas that the crisis had received far too little media attention.
And when xylazine is added to the mix, as is so frequently the case these days, that circumstance simply worsens.
The FDA has stated that xylazine is a nonopioid agent, which means that it may not be reversible by naloxone, the drug frequently used to treat overdosing patients and frequently able to block or temper the effects of opioids like heroin, morphine, and oxycodone. This is one of the problems.
In a sternly worded alert issued last month, the federal Drug Enforcement Administration claimed that "xylazine is making the deadliest drug threat our country has ever faced, fentanyl, even deadlier."
The DEA continued, "Xylazine and fentanyl mixes have been found in 48 of the 50 states. According to the DEA Laboratory System, xylazine was present in roughly 23% of fentanyl powder and 7% of fentanyl tablets that the DEA confiscated in 2022.
The issue seems to be getting worse in Chicago. Earlier this year, data from the Cook County medical examiner's office revealed that xylazine was becoming more and more prevalent in autopsy reports. The increasing frequency of the drug's appearances in Lake County autopsy results was covered by ABC-7 in February.
Xylazine is now a contributing component in greater than 1 in 9 fentanyl overdoses in Cook County, according to Dr. Neeraj Chhabra, a medical toxicologist and emergency physician with Cook County Health, who told the Tribune last year. That was based on data from 2021. By all accounts, 2022 was even worse, and in these early months of 2023, xylazine use on Chicago's streets has only risen.
The bipartisan bill to classify xylazine as a Schedule III controlled substance was submitted late last month by U.S. Senators Catherine Cortez Masto (D-Nev.), Chuck Grassley (R-Iowa), and Maggie Hassan (D-N.H.), among other initiatives being undertaken in both Springfield and Washington to combat the drug. Concerned that they would no longer have easy access to a regular sedative, the bill caught the attention of vets and ranchers.
The legislation actually utilizes a clever two-pronged approach, protecting access for veterinary uses but creating Schedule III sanctions for all illegal uses, which includes every time xylazine is used in a human body. An important requirement of the bill is that drug suppliers must carefully monitor who has access to the drug and for what purposes. At the time that this issue arose, none of that was taking place.
This initiative has been spearheaded by Cortez Masto, and concurrently, comparable legislation has been presented in the House. According to reports, the bill has broad bipartisan support, as it should, and there shouldn't be any valid arguments against it being quickly passed into law.
You can watch Xylazine literally consuming human flesh in the parks and on the streets of America's great cities.
A national, nonpartisan effort can undoubtedly be made to respond to such a shocking act of self-destruction, all in the name of a momentary high.
Chicago may have many issues that require attention, but this one must be at the top of the list for the new administration.