Two Men Indicted for Allegedly Trafficking Handguns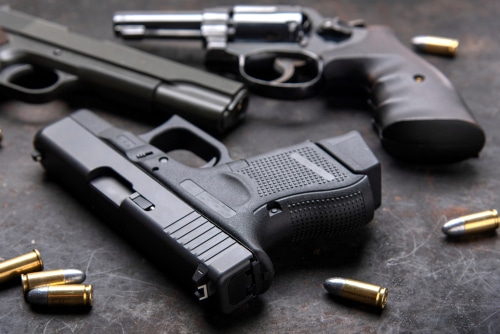 Two men have been indicted on federal firearm offenses for allegedly trafficking multiple handguns from Indiana to Chicago. The two charged men are Benjamin Cortez-Gomez and Gustavo Uriel Gomez-Hipolito. Benjamin, also known as "Bennie Blanco", is charged with one count of dealing firearms without a license and one count of illegally possessing firearms as a convicted felon.
Gustavo, also known as "Uriel Gomez" is charged with one count of aiding and abetting Cortez-Gomez in the illegal possession of the firearms. On Nov. 4, 2020, an indictment was unsealed in the U.S. District Court in Chicago that accused Cortez-Gomez of trafficking firearms over a four-month period earlier this year. The indictment also alleges with the help of Gomez-Hipolito, Cortez-Gomez illegally possessed seven handguns.
According to a criminal complaint filed against Cortez-Gomez earlier in the investigation, Cortez-Gomez purchased seven guns in Indiana and transported them to Chicago. The 28-year old Cortez-Gomez is currently in federal custody. A date for his arraignment has not yet been scheduled. The 24-year old Gomez-Hipolito pleaded not guilty and has been released on bond while awaiting trial.
John R. Lausch, Jr., United States Attorney for the Northern District of Illinois; Kristen deTineo, Special Agent-in-Charge of the Chicago Field Division of the U.S. Bureau of Alcohol, Tobacco, Firearms, and Explosives; and David Brown, Superintendent of the Chicago Police Department announced the indictment.
Cook County Sheriff's Office and U.S. Customs and Border Protection's Air and Marine Operations provided valuable assistance to the case. The government is represented by Assistant U.S. Attorney Charles W. Mulaney. Operation Legend brought the case forward. The Operation Legend is a Department of Justice Initiative.