US-South tormented with Tornadoes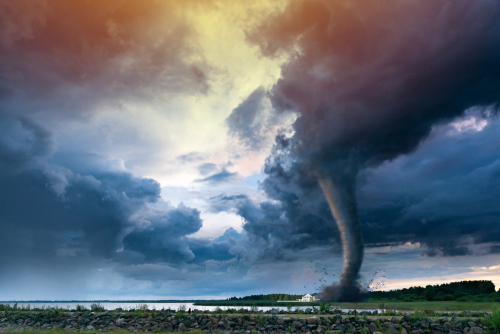 Severe storms tore through several southern states late on Wednesday killing at least six people. The storms added to weeks of extreme weather that have already taken the lives of more than two dozen people and destroying hundreds of homes. More than two dozen tornadoes hit four states overnight.
In Louisiana, a man had died after floodwaters swept him as he lost his footing. A witness says that he was trying to retrieve a trash can from water near a drainage ditch. Extreme flooding took place in some areas of Louisiana, the likes of which Sheriff Jayson Richardson of DeSoto parish had not "seen in many, many years, if ever". He told the Shreveport Times, "Basically the water rose really fast and we had to rescue some people out of homes. I think we had about 20 or so homes that people were flooded in."
The Alexandria campus of Louisiana State University confirmed "there [was] damage to DeWitt Livestock building and a camper flipped over," leaving the campus without power. The school tweeted, "All resident students safe." Many rural communities have faced the wrath of the storms. The storms caused damage to factories at multiple facilities across the south. At least two factory workers have been killed.
In Louisiana, a worker's body was found more than a quarter-mile away after an apparent tornado struck, severely damaging the factory and nearby town. A worker had died after a tornado hit Oklahoma Steel and Wire plant as employees were leaving for the day. His body was found near J&I Manufacturing, a trailer factory about six miles south-west of Madill, according to county's emergency management director, Robert Chaney.
At least two other businesses were damaged by the Tornado. An apparent tornado struck in south-east Texas near Onalaska, about 75 miles (120km) north of Houston taking the lives of at least three people, according to Polk County emergency management system.