Bangladeshi court orders to arrest former chief justice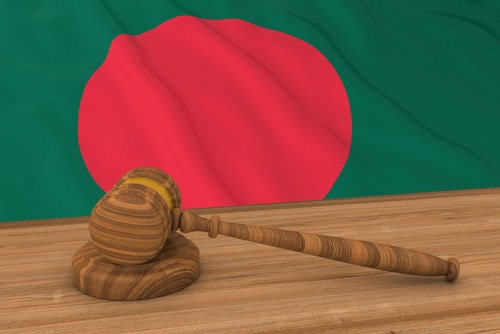 A court of Bangladesh ordered to arrest former chief justice, Surendra Kumar Sinha, and other people on the charges of corruption of $100000. Prosecutor Khurshid Alam Khan said, "These people were fugitive. Sinha was facing the charges of money laundering from one bank account to other and corruption."
Judge KM Emrul Kayesh, a senior judge of a Dhaka court, issued the arrest warrant of Sinha and other alleged people and declared them fugitive. The court advised the police to submit a report on the implementation of an arrest warrant before January 22. The Anti-Corruption Court (ACC) filed the cases against 11 people on December 11.
The alleged people include the former managing director of Farmers Bank, AKM Shameem, the senior executive vice-president and president of the credit division, Ghazi Salahuddin, the first vice-president of credit division, Swapan Kumar Rai, the first vice-president, Shafi Ud Din Askari, the former chairman of the audit committee of the bank, Mohib ul Haq Chishti, and the vice president, Lutf ul Haq.
The name of the Farmers Bank has changed to Padma Bank afterward. The ACC said in September that they got the evidence against two traders, Shah Jahan and Narinjan, of being involved in a fraud. The ACC added that the amount was credited to the account of Former Chief Justice Sinha. Justice Sinha was famous in Bangladesh for taking bold decisions for the independence of the Judicial system. He made several decisions against the government of Bangladesh.
He said that he was allegedly enforced to give resignation in 2017 and he left Bangladesh at the end of 2017. Opposition and human rights organizations said that Sinha was questioned several times as he was a Hindu Justice in a country of the Muslim majority. Justice Sinha is currently based in Northern America. He said before leaving Bangladesh that he was worried about the independence of the Judiciary in Bangladesh.