Biden keeps door open talking about Russian-occupied Crimea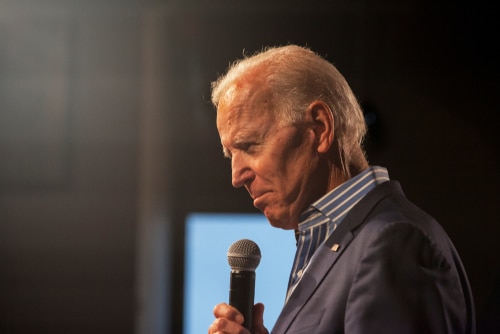 Michael F. Hiatt / Shutterstock.com
The Biden administration is keeping the door open when it comes to U.S. support for Ukraine taking back Russian-occupied Crimea.
Administration officials have repeatedly sidestepped questions about whether Washington would support Kyiv's efforts to retake the annexed peninsula, punting the issue to further "down the road."
Even as some lawmakers have called for the administration to be clearer about its stance, experts say the strategy of ambiguity is a way for the United States to hedge its bets on a contested piece of land that may help bring Russia to the negotiating table to end the war.
"They may believe that there is value in holding Crimea at risk in order to put pressure on the Russians to come to the negotiating table," said Chris Chivvis, a former U.S. national intelligence officer in Europe and current director of the American Statecraft Program at the Carnegie Endowment.
"It's possible that that's driving their policy. … Even if they don't actually believe that it's likely that Crimea will be returned to Ukraine militarily."
The Crimean Peninsula has been a conflict zone since Russia invaded and annexed it in early 2014, with little Ukrainian progress on taking it back until this past year. While still considered official Ukrainian territory — with the West denouncing the invasion — many gave Kyiv little chance to reclaim it given geographic and military limitations.
That mindset has shifted, however, a year after Russian President Vladimir Putin launched his now-disastrous war. As Ukrainian troops continue to reclaim large swaths of land from Russian forces, the view has changed over Kyiv's potential to take Crimea back.
Ukraine has been clear that its own goal is to reclaim the peninsula, with President Volodymyr Zelensky in September vowing that his forces would claw back every bit of territory the Russians had taken.
"We can return the Ukrainian flag to our entire territory. We can do it with the force of arms," he said in a video address to the United Nations General Assembly. "But we need time."
Zelensky repeated that view in a video appearance at the World Economic Forum's annual meeting in January, asserting that "Crimea is our land, our territory. … we will return what is ours."
Though U.S. officials have said that Washington will support Ukraine for however long it takes for them to win the war, they've been unwilling to give full support to Kyiv's ambitions in Crimea.
That's in part due to the heavy arms — long-range missiles, tanks and aircraft — that would likely be required to mount a successful offensive to regain control of Crimea.
National security adviser Jake Sullivan last month dodged questions on whether the Biden administration would support the Ukrainian goal.
"The critical thing right now is that they need to take back the territory in the south and the east that they are currently focused on and we need to give them the tools to be able to do that," Sullivan said on NBC's "Meet The Press."
"The question of Crimea, and the question of what happens down the road, is something that we will come to," Sullivan added.
The Pentagon also touched on the subject in January, when deputy press secretary Sabrina Singh said the U.S. has long held the position that Crimea is part of Ukraine and supports "the Ukrainians taking back their territory by any means that they can."
But she declined to say if the U.S. military endorses such a move on Crimea specifically, telling reporters that "we don't dictate to the Ukrainians how to run their operations."
When asked this past week about the Pentagon's stance on the issue, a spokesperson declined to offer anything further.
Senior Defense Department officials in early February also told lawmakers that Ukrainian forces are unlikely to be able to retake Crimea from Russia in the near future, Politico reported.
Lawmakers have since expressed doubt over whether Ukraine can conceivably recapture the peninsula, with House Armed Services Committee ranking member Adam Smith (D-Wash.) last month saying there's "more of a consensus" that "Ukraine is not going to militarily retake Crimea."
Rep. Andy Kim (D-N.J.), a fellow committee member, also believes the U.S. strategy is one that leaves the door open for peace negotiations.
"It's important before negotiations even begin that we don't try to prejudge what the outcomes could be," Kim told. "I've seen a lot of negotiations lead in very different places than we initially expected."
Rep. Mike Gallagher (R-Wis.), who also sits on the panel, said U.S. ambiguity on Crimea "suits our purposes."
"I don't think the administration should be dictating Ukrainian operational policy," Gallagher said. "We can provide them weapons, but we don't need to say 'take XYZ.' "
Not everyone has been pleased with the U.S. stance, with some GOP lawmakers pressing the administration to provide an outlook for what the end of the war between Russia and Ukraine might look like.
Alaska Sen. Dan Sullivan (R) on Feb. 26 said U.S. officials "should be more clear" about whether U.S. support for Ukraine extends to retaking Russian-occupied Crimea.
Michael Kimmage, a historian of U.S.-Russian relations at the Catholic University of America, said if you squint between the lines of what the Biden administration has so far said, it appears that "they're not crazy about the idea of Ukraine really putting Crimea in its sights."
"In terms of any sort of major military events, it's probably not in the cards this year, for practical, military reasons," said Kimmage, who also held the Russia/Ukraine portfolio on the State Department's policy planning staff from 2014 to 2016.
He added that, for the time being, the U.S. had more urgent tasks in its sights, including the battle that's raging around Bakhmut, the possibility Ukraine could take back more territory in the Donbas, and fear over a potential Russian strike in the north.
"There are lots of things to worry about that are not particularly connected to Crimea, that may just fall higher on the agenda," Kimmage said.
Source: thehill.com