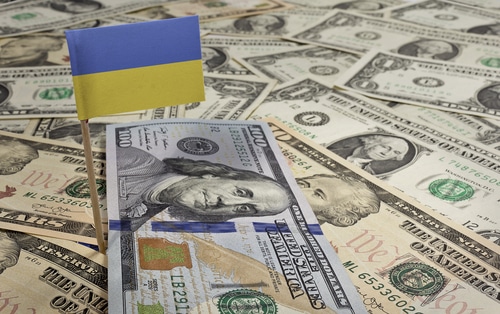 Republicans in the Senate and the House are preparing for an internal conflict over President Biden's proposal for an additional $24 billion to continue supporting the conflict and humanitarian aid in Ukraine.
At the presidential debate last week, the war's differences inside the GOP were amply on show.
Republicans who hold traditional views on national security, such as former U.S. ambassador to the UN Nikki Haley, former vice president Mike Pence, and former governor of New Jersey Chris Christie, engaged in a debate with Vivek Ramaswamy and Florida Governor Ron DeSantis.
According to polls, the majority of Republicans are opposed to giving Ukraine extra money, but according to Senate Republican sources, both the Senate and the House of Representatives will eventually adopt another Ukraine package, even if conservatives in both chambers will oppose it.
According to a July national survey of 1,279 individuals done for CNN by the independent research firm SSRS, 55% of Americans and 71% of Republicans oppose Congress approving extra cash for Ukraine.
Last month, 70 House Republicans supported an amendment proposed by Rep. Matt Gaetz (R-Fla.), calling for the cessation of all security aid to Ukraine. By a vote of 70-358, it was defeated.
The vote, however, demonstrated that Speaker Kevin McCarthy (R-Calif.) will need Democratic support for any plan that would maintain the flow of arms and economic aid to Ukraine.
And after declaring in June that additional funding from Ukraine above the budget caps he and President Biden set for 2024 is "not going anywhere," McCarthy will undoubtedly face pressure from conservatives in his conference to demand spending concessions to offset the cost of a Ukraine supplemental spending bill.
A danger to McCarthy's Speakership, according to Rep. Ronny Jackson (R-Texas), is "inevitable" if he refuses to heed conservatives' calls for budget reductions and other changes.
On Steve Bannon's "War Room," he cautioned that "it's going to be a real problem for leadership if we continue to rely on the Democrats to pass important legislation out of the House."
This month, Biden requested that Congress approve a total of $40 billion in emergency expenditure to finance the conflict in Ukraine as well as federal disaster funding to restore damage from fires and storms and to bolster security at the Southern border.
Given the resistance from House conservatives and concerns over whether McCarthy will try to depend on Democrats to pass the emergency bill, Senate Republican insiders claim that the timing of the package is extremely uncertain.
"The Senate would have to go first on something like this because McCarthy's in a really tough spot. He can't put forth a Ukraine funding resolution with Democrat votes or he's putting his Speakership in grave danger, because in the House Republican caucus there's not as much support for un-offset Ukraine spending as there is in the Senate," said Brian Darling, a GOP strategist and former Senate aide.
At the Republican presidential debate in Milwaukee, where Ramaswamy referred to continued U.S. support for the war as "disastrous," and DeSantis argued that additional military and economic aid "should be contingent" on European allies spending more on the effort, the divisions within the Republican Party over sending billions more in humanitarian and military assistance were made clear.
Republicans in the House and Senate have the same differences.
"Vivek Ramaswamy said what the majority of Republicans believe. In his opinion, the financing for Ukraine needs to be subject to checks; it cannot be a free pass. On that, I believe the majority of Republicans concur with him," Darling added.
On Capitol Hill, the caucus is deeply divided on how to handle the Ukraine funding proposal, he said.
Ramaswamy suggested that the same military assets should be utilized to stop the "invasion" of migrants over the Southern border and claimed, "We are driving Russia further into China's hands."
The House Freedom Caucus indicated last week that attaching cash for Ukraine and emergency disaster relief to a short government funding resolution that must pass by September 30 would face a tough struggle in the lower chamber.
It's quite risky for the supplemental to possibly ride along with the continuing resolution. It's risky because it divides both parties, according to James Wallner, a former top Senate Republican staffer. Wallner also mentioned that Democratic progressives are wary of the country's indefinite commitment to the conflict.
Conservatives in the House have vowed to oppose any continuing resolution that "continues Democrats' bloated COVID-era spending" and have urged congressional leaders to reduce the top-line defense and nondefense spending to $1.471 trillion, which is less than the overall spending limit that Biden and McCarthy agreed to for fiscal 2024.
As part of their commitment, they promised to "oppose any blank check for Ukraine in any supplemental appropriations bill."
This increases the likelihood that McCarthy will face pressure to change the customary practice of not counting emergency expenditure against yearly budget constraints and require that any additional funding for Ukraine fall within the discretionary spending caps he agreed to in May.
However, the majority of Senate Republicans and Senate Democrats do not want to make further cuts to defense and non-defense programs than what was agreed upon by the Senate and House when the debt ceiling was raised in June.
For instance, the Senate Agriculture Committee's head, Sen. Debbie Stabenow (D-Mich.), claims that the debates over tying harsher work requirements to federal food aid were resolved by the debt ceiling agreement and are now closed for further discussion this year.
Senate Majority Leader Chuck Schumer (D-NY) was pressured by defense hawks in the Senate Republican conference to promise on the Senate floor in June that the debt limit agreement's cap on defense spending wouldn't prevent the Senate from passing supplemental spending legislation to give the Defense Department more money or deal with a national emergency.
At a Kentucky event earlier this month, Senate Republican Leader Mitch McConnell (R), one of the most vocal Republicans in favor of supporting the war in Ukraine, noted that "most of the money that we spend related to Ukraine is actually spent in the U.S., replenishing weapons, more modern weapons."
Another significant bill to help Ukraine would eventually pass both chambers with enough Republican support, according to a Senate Republican aide. He emphasized the persuasive arguments made by Haley, Pence, and Christie in favor of halting Russian aggression before it reaches European partners.
"Many of the contenders resisted the notion of not backing Ukraine. Although there are still some differences, the majority of Republicans, in my opinion, support aiding the Ukrainians, the source added.
If the United States withdraws from the situation in Ukraine, major national security repercussions would follow, warned Haley, Pence, and Christie.
"Vivek, if we do the giveaway that you want to give Putin to give him his land, it's not going to be too long before he rolls across a NATO border," Pence sternly warned his rival.
"Frankly, our men and women of our armed forces are going to have to go and fight him. I want to let the Ukrainians fight and drive the Russians out," he declared.