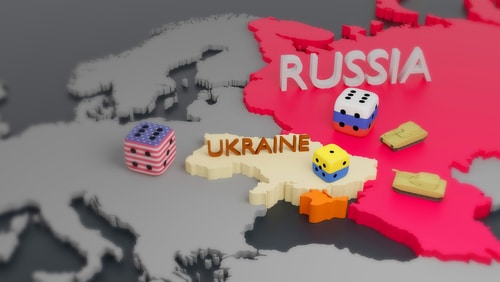 Half of the respondents in a new poll said they support the U.S. sending weapons to Ukraine as the country's war with Russia continues to rage on.
A new University of Chicago Harris School of Public Policy and NORC poll, published Wednesday, found that 50 percent of respondents said they support the U.S. ongoing supply of weapons to Ukraine for its defense against Russia's invading forces.
About a quarter of respondents said they are opposed to the ongoing U.S. supply lifeline to Ukraine, which has topped more than $37 billion in aid.
Seventy-nine percent of respondents who are 45 and older said they view Russia's invasion of Ukraine as an unjustified attempt to overthrow the country's government, while 59 percent of those surveyed who are 44 and younger have the same sentiment.
Fifty-eight percent of respondents support the U.S. imposing sanctions against Russia, falling 13 points from a similar poll a year ago, according to the poll.
February marked a year since Russia invaded Ukraine, which has resulted in thousands of civilian deaths, tens of thousands of military casualties on both sides, and the displacement of more than 8.2 million Ukrainian citizens.
Sixty-two percent of respondents regard Russia as the top enemy of the U.S., and 48 percent of those surveyed express worry about the Kremlin's influence around the world.
Fifty percent of respondents have a favorable opinion of Russian people, while 17 percent of those surveyed have an unfavorable opinion of their Russian counterparts, the poll said.
The University of Chicago's Harris School of Public Policy and NORC poll was conducted from April 13-17 with 1,180 respondents participating in the survey. The poll's margin of error was 3.9 percentage points.
Source: thehill.com