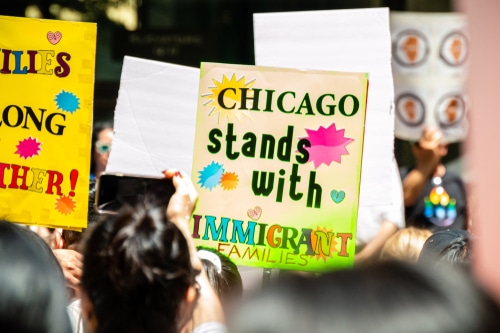 Over the past 18 months, Chicago has welcomed over 30,000 Ukrainian refugees without much controversy; however, the arrival of 19,000 Latino migrants during roughly the same period has caused a crisis in the city.
Why it matters: According to experts, examining the conditions that led to each group's arrival may provide insights into how to make things better.
Axios questioned aid organizations and immigration specialists about what was unique about these new arrivals:
1. Resettlement in the United States is simpler for refugees from Ukraine.
The majority of Ukrainian immigrants arrived after being sponsored by American citizens under the Uniting for Ukraine federal program, which grants temporary residency, a Social Security card, and instant authorization to work.
Several Latino immigrants, primarily from Venezuela, who were recently sent to Chicago from border towns between the United States and Mexico arrive without legal status, some of them intending to apply for asylum. These options don't require sponsors or provide quick work permits.
Work permits are not granted to asylum applicants until 150 days after their application is submitted. Some Venezuelans can now apply for work permits more quickly thanks to a new program.
2. When Ukrainian refugees arrived, Chicago already had a sizable Ukrainian American community and a social service group called the Selfreliance Association.
The Venezuelan community in Chicago is smaller and more recent, and it lacks these established networks.
While their resources are limited, a few religious, mutual aid, and legal aid organizations are attempting to intervene.
3. Some experts told Axios that discrimination against Latino arrivals can occur.
González, a senior fellow at the University of Illinois Chicago's Great Cities Institute, told WBEZ last month that "there's also a racial component."
"There is a populace in the country of white supremacists who have no problem bringing in more Ukrainians, but do have problems bringing in more Central Americans, Venezuelans, Asians and Haitians — because they fear the demographic transformation of the country."
Context: Following Russia's invasion, refugees from Ukraine fled here; the United States is actively supporting Ukraine during this crisis.
The reasons behind Venezuelan emigration are more nuanced; some contend that the economic instability caused by U.S. sanctions has made the situation worse.
What they're saying is: "The Uniting for Ukraine program is being looked [by the feds] at as a model for future immigration to the U.S." Axios is told by Pavlo Bandriwsky, vice president of the Illinois branch of the Ukrainian Congress Committee of America.
"Because it provides certain support and responsibility so people aren't just thrown into tents and told, 'Fend for yourself.'"
The twist: Representatives from Catholic Charities in San Antonio, Texas, tell Axios that they will only purchase tickets for migrants to travel to Chicago if they claim to have a sponsor in the city.
However, when Axios questioned charity representatives about how they verify the legitimacy of those sponsors, they did not reply. Some migrants have given addresses of police stations as their sponsor location, according to Chicago officials, who spoke with Axios.