BMO Harris and CPS Lives Collaborate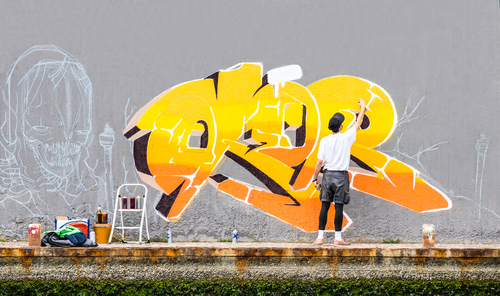 CPS Lives and BMO Harris last month on June 15th collaborated with CPS students, volunteers, and their families to create the mural, "If I Could Show The World" at the Hyde Park Art Center. Lead Artists Dorian and Jeff Phillips helped with the work of 11 different CPS Lives artists and over 20 different CPS Schools were featured in the finished mural.
After the mural was finished, it was installed at BMO Harris Bank's downtown Chicago location on the corner of LaSalle and Monroe. On June 29th, a small celebration with the public took place. The celebration highlighted the efforts of CPS Lives artists and CPS students who made this project possible. For about a month, the mural will be there for public viewing.
Art can tell stories and change narratives," says Suzette Bross, Executive Director of CPS Lives. "This mural is an expression of giving back to the community and showing the good in humanity." A group of Chicago students, in June 2020, transformed temporary plywood, used to cover BMO Harris Bank's main branch during protests, into a work of art expressing messages of hope and unity.
Protests had erupted across Chicago and the rest of the country. BMO Harris Bank and CPS Lives looked for ways to support local communities and to stand against racial inequality and injustice. BMO is a longstanding supporter of both Chicago's public schools and the city's arts community. They reached out to CPS Lives and asked if they wanted to create artwork on the plywood around the branch.
CPS Lives Founder Suzette says, "BMO's values of fairness, equality, and inclusion perfectly align with ours." CPS Lives is a non-profit organization that creates artist residencies in Chicago Public Schools to share honest and positive stories about public schools. Local artists collaborate with a Chicago Public School during the academic year to collaborate on a project.