Chicago Bears to open the bidding on the No. 1 pick in the 2023 NFL Draft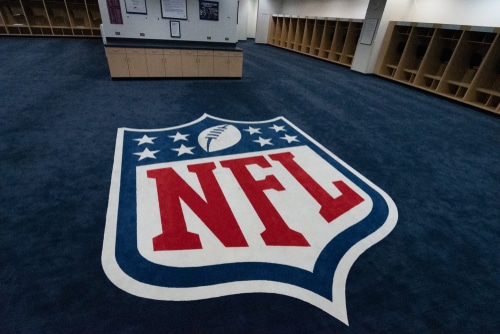 Chris Rubino / Shutterstock.com
INDIANAPOLIS — Justin Fields has created enough value to allow the Chicago Bears to open the bidding on the No. 1 pick in the 2023 NFL Draft. That's worth a lot.
Two years ago, the Bears traded a future first-round pick to move up nine spots in the 2021 draft and select Fields out of Ohio State at No. 11. Now, the Bears could be looking at adding multiple first-round, second-round and third-round picks in exchange for the overall No. 1 pick because of what Fields has done in two years in the league.
Tuesday, Bears GM Ryan Poles and coach Matt Eberflus both talked at the NFL Scouting Combine about what Fields can do and needs to do. They weren't discussing Fields' magic in bailing the overmatched Bears out of tough spots as much as the basics of what they want from him on second-and-6. Kind of a snoozer, but it wasn't the thing you do to pump up a trade asset. It was the kind of thing you do to keep a talented young quarterback who you see as your future on track.
"Some of the conversations that we've had and we talked about at the end of last year, is to take what the defense gives you," Eberflus said. "I know that's coach talk, and obviously he's a tremendous athlete and he can do a lot of different things, and if we call a designed run, you can run it, or on third down or in critical situations in the red zone, you can certainly do that. But first and second down early in the game, take what the defense gives you and move on."
That's a thing you say when you can take the spectacular for granted, which you cannot do with a lot of quarterbacks in the league. Sure, the spin-move touchdown was nice, but that 4-yard throw in the flat needs work. It's not entirely different from what Ryan Day said about Fields in Columbus at times, when the OSU coach sometimes though Fields' best plays were throwing balls away when nothing was there.
Fields' instinct is to hold the ball until the last-second, in pursuit of something special. In two years with the Bears, the lack of playmakers around him has meant that anything special he'd probably have to create himself.
Now, the Bears, theoretically, could take Alabama quarterback Bryce Young at No. 1. Poles and Eberflus will say maybe to anything at this point to keep that option open. But a QB like that at the top of the draft means teams like Indianapolis at No. 4, Detroit at No. 6, Las Vegas at No. 7 and Carolina at No. 9 might be willing to pay a major price to trade with the Bears and go get Young.
In 2015, the Los Angeles Rams, at No. 15 in the draft, gave up that pick, a future first, two second-rounders and two third-rounders to move up to No. 1 and take Jared Goff. And that was Jared Goff. Chicago doesn't want to drop as far back as 15, but the Bears should expect a similar haul.
"In a vacuum, moving back gives you more opportunities to hit on more players and to continue to add to the core of this team," Poles said.
The Bears are in a vacuum because they are in control. The Jets picked Zach Wilson at No. 2 in 2021 and the former BYU quarterback has already flamed out. The Jets are searching for a quarterback. If the Bears had taken Wilson, they'd now be taking Young at No. 1.
But Fields gives them hope. And Fields gives them options, and that means they can go build around Fields.
"We're always trying to add playmakers at all positions," Eberflus said. "At receiver, you've got to be a playmaker, and if we can add a piece during the course of the offseason, we're certainly going to do that."
Detroit (No. 6 and No. 18) and Seattle (No. 5 and No. 20) both have multiple first-round picks. Indianapolis, at No. 4, has basically committed to drafting a quarterback and should be ready to deal. The Bears have a chance to maybe add a receiver and offensive tackle high in this draft, and backlog future early picks as well.
"This will really allow us to play the numbers game to see what makes sense for us," Poles said.
It could happen soon. Poles agreed it might make sense for the Bears to make their trade before the start of free agency in the middle of March, because it would allow them to tackle free agency knowing what picks and players they've added. For now, they'll continue to act like anything is possible. They'll meet with the top quarterbacks at the combine, because Poles left open the door to be blown away by one of them. He said he has talked with Fields about that and that he will continue to keep him in the loop.
But they already have a guy who has made some plays that are hard to believe. And Poles said the plan remains for Fields to keep doing that in Chicago.
"Justin did some really good things," Poles said. "I'm excited about where his game is going to go."
They should be just as excited for the trade options sure to come their way that will give Fields and the Bears a chance to win together.
Source: www.cleveland.com