Elgin Police Chief Amused by The Public's and News Media's Reaction to "The Situation"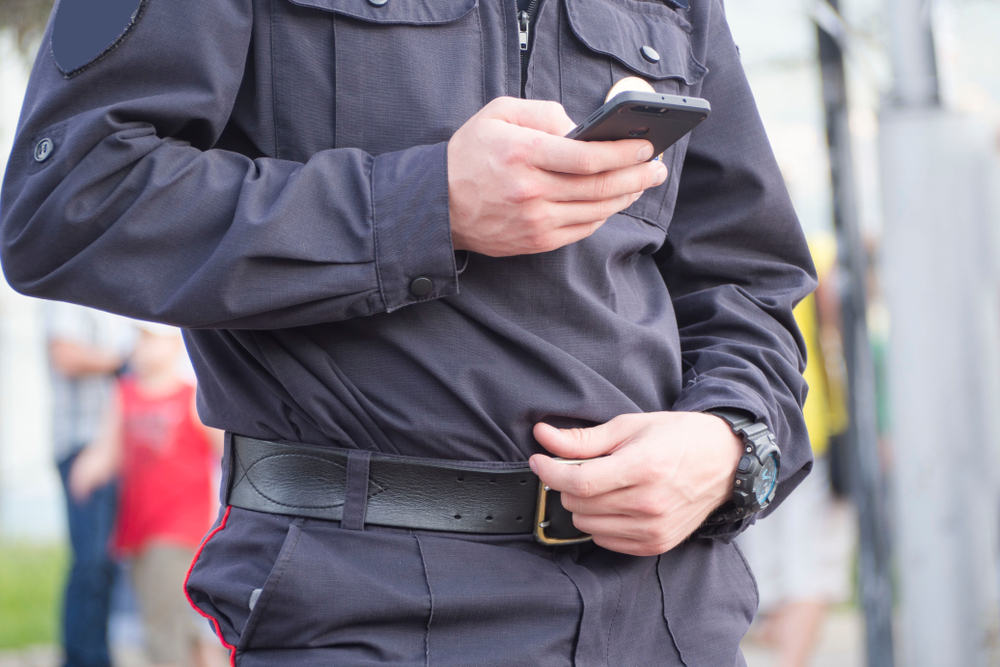 During an interview on WRMN AM 1410, a flippant Elgin Police Chief Ana Lalley displayed that she was amused that "the public" and the "news media" misinterpreted an incident involving police activity in the City of Elgin Friday morning, June 11, 2021. Since the Elgin Police Department uses encrypted police dispatch, and posts only cryptic public notification messages on social media, how could the police chief seriously consider that the public would understand "the situation." While respecting the privacy of victims or people involved in "the situation" is understandable, chuckling during a radio interview about the reaction of the public and the reaction of the news media shows an example of blatant disrespect toward the community and lack of genuine connection with the community and news media. Friday's actions are a surprise because Chief Ana Lalley has a strong resume with many accomplishments in the police department.
A large amount of police activity converged in the block of 2000 Padua Drive in Elgin, which resulted in speculation and rumors that were immediately shared on social media Friday morning, June 11, 2021.
Lalley definitely did not show empathy for a concerned "public" but instead derided the citizens of Elgin and Chicago area media for their speculation during an incident that the Elgin police initially only classified as "the situation."
On Friday morning, June 11, 2021, the Elgin Police Department acted the way an increasing number of police agencies in Chicagoland and across the United States perform during breaking incidents. They referred to intense police activity in their city as "the situation."
Police understandably have a monopoly on use of force for law and order and public safety; however, we all know very well that the justification of use of force is involved in an intense national debate.
Consider also a police monopoly over the control of data and information regarding crime and public safety. Any flippant attitude and lack of respect toward citizens affected by "a situation" who are concerned with the public safety status of their community or neighborhood is appalling and unacceptable. Elgin Police Chief Ana Lalley boasted of transparency Friday, but that transparency was covered with an excessively obscure veil of privacy, and corruption of information by deliberately diminishing the seriousness of a domestic dispute compared to the obvious severity of an active shooter incident or barricaded subject incident.
There is no reason why a police department can't post what they are initially responding to, and emphasize that they are investigating the validity of the initial report. Describing an incident cryptically as "the situation" is a practice that should not be tolerated by the community, especially when it involves a large police presence. Here is what the Elgin Police Department initially posted on Facebook …
INITIAL EPD COMMUNITY NOTIFICATION

There is a large police presence in the 2000 block of Padua Drive. Please avoid the area. We will update the community when the situation has been resolved.

— Elgin Police Department (Facebook 7:59 a.m. Friday June 11, 2021)
There is no reason Elgin police couldn't have initially posted a notification that at least stated something such as …
"The Elgin Police Department is responding with a large police presence and an abundance of caution to a report of a domestic-related incident."
Instead cryptic information was provided by police, and then witnesses observed that a neighborhood of large single-family homes was blocked off, and perimeter police tape was set up near the home with a black or dark-colored unmarked van parked in the street within the police tape. The neighborhood was surrounded by a large number of police vehicles.
There were several speculative comments posted on social media about what happened, or what was occurring.
Police provided an update sometime shortly after 9:30 a.m. Three new cryptic words were added that provided minimal insight to the situation … "isolated domestic situation." There was also verification that the situation was "resolved" and that there was "no danger to the community."
"At 9:30 a.m. the situation has been resolved and there is no danger to the community. The incident was an isolated domestic situation and was not a barricaded subject. A number of officers may remain on the scene for a short period of time. Thank you for your patience."

— Elgin Police Department (Facebook after 9:30 a.m. Friday June 11, 2021)
During a regular Friday radio interview known as "Friday with the Fuzz" "the public" was basically told by Police Chief Ana Lalley that the isolated domestic situation was none of your business.
In the interview on WRMN-AM 1410/96.7, the radio host, who didn't introduce himself in the radio segment, asked Police Chief Ana Lalley a few "softball" questions about the incident.
"It was an isolated domestic-related situation," said Elgin Police Chief Ana Lalley. "It was not a barricaded subject. If it's an active shooter, that's a very different notification we'd make to the community." We should ask the police chief this question: The citizens of Elgin were supposed to know this by process of elimination — all from the two cryptic words "the situation"?
The police chief said there is a difference between a "need to know" and a "want to know". There is a process whereby we (the police) have to respect people's privacy, so for it to go any further other than to say it's a domestic incident, there are other issues that have nothing to do with the public, Lalley answered.
Regarding those issues that have nothing to do with the public — what does the police chief believe those non-issues would be?
Whether or not a gun was used or discovered?
Whether or not a knife of other weapon was used or discovered?
Whether or not a threat of a weapon was involved?
Whether of not multiple weapons are stored at the house?
Whether or not anyone was injured?
Whether or not there has been a history of police calls at the address?
Whether or not the information that initiated the large police response was accurate?
Whether or not an arrest or hospitalization occurred connected to the isolated domestic-related incident?
Instead of asking the police chief these pertinent questions, the WRMN-AM 1410/96.7 radio host threw the WGN SkyCam 9 news crew under the bus — not by name — but basically ridiculing their effort to investigate a possible news story.
What initial information initiated a large police response? Obviously there was some specific information about this call that caused a large police response. "The Public" shouldn't be embarrassed or shamed about speculating or having concern about what was happening. And likewise the police shouldn't be shamed for a strong police with an abundance of caution.
As the reason for the lack of information was explained, Police Chief Lalley used a manipulative technique by diminutively comparing the domestic-related incident to the rumors of a barricaded suspect or active shooter. The police chief clarified that Friday's incident was neither of the latter two, but then manipulated information so that Elgin citizens might believe that a domestic-related incident wasn't as serious as an active shooter incident or a barricaded subject incident. In other words, "the situation" had nothing to do with the public because domestic-related situations aren't as dangerous to the public as active shooter incidents or barricaded subject incidents.
Facts and Myths About Domestic Violence from the Illinois State Police

Facts About Domestic Violence

Every 15 seconds in the United States a woman is beaten.

Domestic violence results in more injuries that require medical attention than rape, accidents and muggings combined.

Two in five women who are murdered are killed by their husbands.

At least 95 percent of all cases of partner abuse involve a man beating a woman.

Woman abuse happens in all classes and races. It occurs at every level of income and education.

Violence in the home usually becomes more frequent and severe over time. The abuser's apologies do not mean the violence will not occur again.

Children who grow up in violent homes come to believe that violence is normal. They come to believe that it is an acceptable way to control someone else. The majority of adult violent prisoners were raised in violent homes.

Violence is often part of a pattern of threats, insults, insane jealousy, explosive temper, and attempts to isolate and overpower the woman.

Myths About Domestic Violence

A man's home is his castle. No one should interfere with the family. Actually, battery is a crime! No one has the right to beat another person.

A woman who gets beaten brings it upon herself by nagging or provoking her spouse. Actually, people are beaten for reasons as ridiculous as: the dinner is cold; the TV was turned to the wrong channel; the baby was crying. Abusive people refuse to control their violent impulses. Even where the person may have reason to be angry, they have no right to express their anger violently.

A person who stays with an abuser after being beaten must like to be beaten. Actually, being beaten hurts and no one likes it. There are many reasons why victims remain with abusers including their fear of further violence, the financial hardship of leaving, religious reasons, their emotional attachment to their partners, and their belief that families should stay together.
The Illinois State Police describe that a Domestic Violence Cycle occurs when one person tries to control the other: the victim takes self-blame, the victim believes and forgives, the victim tries to please the abuser.
In an Illinois State Police general information page about domestic violence, the Illinois State Police advise that once a violent act takes place in a relationship, the violence almost always reoccurs, and in fact, tends to get more severe.
Domestic-related situations are extremely complex incidents that have the potential of sudden extreme violence. Police know that domestic incidents have the potential for violence that not only kills police officers, but can also result in violence happening to victims right before their eyes. Many police officers have also suffered career-ending injuries during domestic disturbances.
BUT THIS WASN'T INITIALLY PROVIDED (90 MINUTES PASSED)

Police Chief Statement on radio interview …
"[When] there's a lot of sensitive things involved, but we'll say it's an active domestic situation so people know, 'Oh, OK, it wasn't a barricade, it wasn't an active shooter … no problem."

— Elgin Police Chief Ana Lalley
Furthermore, the public WAS involved. An entire street was blocked, police perimeter tape went up along with the large police presence, neighbors' living activities were interrupted, and some people who live nearby were probably terrified.
Yet the police chief chuckled about news media flying over with a helicopter, and critiqued the public for being concerned about this because of the helicopter. Actually she got it backwards. The news helicopter was there because concerned people were already reporting the incident on social media, and because the citizens were providing tips to Chicago TV media because the police provided only cryptic information about the police activity on Facebook.
Both the radio host and Police Chief Ana Lalley spoke with little respect toward the media — at times chuckling about advice to not take the news media flying over as a sign that something serious is happening.
Don't let the helicopters fool you.

— Elgin Police Chief Ana Lalley
Lalley created the impression of a cat and mouse game with the police and the media, saying there have been many more serious situations when news media crews have not been flying over the scene as she chuckled about the situation. Lalley said she's seen many (serious) things where they (the media) are not around. She added, "Don't take the news media [Lalley chuckling] flying over as the sign of 'Oh my God'" …
Hypothesizing, the radio host asked whether the media was just looking for something to do Friday morning. He suggested the media was thinking, "We need a story, we found out there's a ton of Elgin cops at this one house today, let's go fly the helicopter today." Lalley replied chuckling, "Yeah, maybe; I don't know it, could be, right?
Lalley added with a cocky, self-satisfied grin, "It's up to them. I can't control that." It's obvious from hearing Chief Lalley's statements, there is little team approach between the news media and the police department in Elgin.
"I can tell you, I've been here a long time, and I can tell you I've seen many things where they're not around," Lalley said. As an example, Lalley provided some details of a domestic-related homicide that occurred late at night in the parking lot of D Hangout in 2018 — including news of a recent arrest in the almost three-year old case. Lalley said with a grin regarding that incident, "There were no helicopters flying around." The radio announcer replied jokingly while chuckling, "Nobody was working at that time." Then Lalley replied, "But that's my point. That's to illustrate … don't take that (news helicopters) as a sign that it's really something bad."
And with encrypted police radio communications that can't be monitored by the news media, and most residents in Elgin sleeping, why would any TV news helicopters be informed and flying overhead at that time in the middle of the night?
CARDINAL NEWS was at the shooting scene during the investigation at D Hangout on Sunday, September 9, 2018 instead of the news helicopters.
As police radio communications are encrypted and even some fire communications are encrypted, be prepared for more deceptive, manipulative, and/or cryptic information — or even zero information — regarding what is truly happening in some of our communities. Be prepared for this while your local government boasts that the police department is very transparent. The modern police and local government trends also provide an open door facilitating future corruption in local government. Sunshine and information keeps a community true and clean. Darkness provides opportunity for corruption and criminals.
Is the police chief subtly calling out the news media for being somewhere when they're not necessary, and then not being somewhere when something is newsworthy? Maybe. She is certainly saying, don't take signals from news media, watch the Elgin Police Department's Facebook page (which barely provided any information). She just acted as a leader of a monopoly with an excessive control over public safety information. We all know that monopolies can be abusive, and that monopolies tend to provide lesser quality goods or services at a higher price than companies in a competitive environment. Local government can unfairly dominate their hold on information and effectively exert their control to embarrass the news media, and devaluate the services that the news media provides.
In conclusion at the end of the day, the Elgin Police Department did not confirm or deny whether anyone was arrested or whether a weapon was involved. Perhaps more important was that the Elgin police chief had the audacity and arrogance to indoctrinate the citizens of Elgin about how to think about these incidents.
Friday in Elgin it was "There's nothing to see here" vs. "If you see something, say something."
Chalk one up for "There's nothing to see here." With this attitude, you just might hesitate or miss identifying a cycle of domestic abuse, and miss the opportunity to save someone's life. The Elgin Police Chief's Message: "Don't believe your own eyes. Trust the little bit we tell you on Facebook."
NOTE: The Elgin Police Department has recently provided a "Calls for Service" database with map support and other crime statistics that is superior compared to information provided by other municipalities in Chicagoland suburbs.