Apartment Owners Turn to Onsite Guest Suites to Lure Busy Renters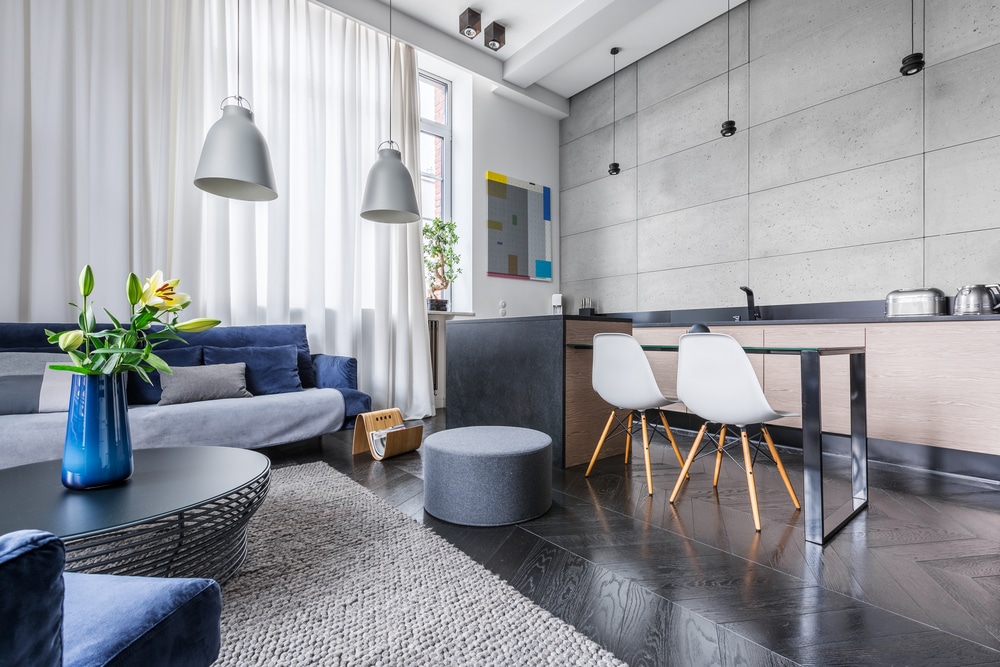 Forget the high-end pools and dog parks. One of the newest types of apartment building amenities is the dedicated hospitality suite, an onsite place for visiting friends or family to stay as multifamily developers increasingly try to appeal to busy tenants.
GMH Communities, a multifamily development and investment firm formerly known as GMH Capital, said it's adding fully furnished visitor units to its Anova uCity Square, a 461-unit apartment complex under construction at 3700 Lancaster Ave. in Philadelphia, according to CoStar research and the company. The suites are just one luxury perk planned for the project, which includes a mix of studios, as well as one- and two-bedroom units that range from extra-small microunits that let people avoid spending time on cleaning to more standard-sized apartments.
"The whole premise of this property is to live big in the amenities, but not live big in the apartments," Gary Holloway Jr., president of GMH Communities, said in an interview. "You're never going to feel like you're living in 400 square feet."
Once highly coveted multifamily development perks such as private poolside cabanas and pet washing stations that seemed groundbreaking when they were introduced years ago have become the baseline standard of luxury multifamily projects today. That's forcing developers to up the ante in new projects as they try to compete for highly paid renters who are increasingly seeking not just living space but social and personal experiences more similar to high-end hotels in their apartment complexes.
And those renters are also looking for more ways to save time. GMH's Anova project in Philadelphia is part of the company's new type of multifamily property that offers perks meant to attract technology workers, graduate students and other busy professionals who often bring work home with them, or have very limited free time to complete routine errands.
While planned amenities designed to save tenants time include now standard grocery and dry-cleaning services and a 24/7 concierge service, one of the newest is that suite for out-of-town guests. Residents will be able to pay a small nightly fee to rent out a fully furnished apartment unit in the building for their family or friends, Holloway Jr. said. That way, they can feel they have a bigger apartment, and avoid having to take the time to travel to a nearby hotel to visit. The feature is offered at a handful of properties, but is still rare in the multifamily sphere.
"It's not meant to be a money maker for us," he said. "They're meant to be an amenity for our residents."
Of course, such units are rare and only still testing the market with no guarantee they will catch on. Only a handful of other housing developments around the nation are publicly advertising hospitality suites. One such example is Five Park, a luxury condominium tower in Miami Beach that includes one floor of high-end, short-term guest suites. The Place, a 34-story apartment tower at 600 Broadway in Nashville, includes five guest suites.
Renting Convenience
The guest units and other high-end perks reflect the cohort of evolving housing developments, including shared environments such as coliving buildings, that are increasingly popular with people who are juggling long work hours and live in cities with high rents. With remote work becoming more of an option for white-collar workers because of the pandemic, renters are seeking more bang for the buck if they choose to stay in high-priced areas.
"People want to know what can we do for them that saves them time, so they can live a more balanced life," Kasia Mays, chief operating officer at apartment investment firm CGI Plus in Los Angeles, said in an interview.
While many of these amenity-rich multifamily projects are concentrated in expensive, dense tech markets like the San Francisco Bay Area and New York City, GMH expects Philadelphia's growing tech and biotech scene to create more demand for such developments.
The city's health care industry, which accounts for more than 20% of Philadelphia's employment, according to the city, has added an average of 2,400 jobs annually since 2006, according to the city.
But the demand for higher-end amenities is spreading nationwide as tech and other high-paying companies themselves expand into new cities such as Austin, Texas, and Nashville, Tennessee, and as workers themselves are increasing able to work in cities of their own choosing.
All the properties in GMH's new initiative are meant to feature amenities similar to the Philadelphia project, and most of them are expected to be built in research-oriented mixed-use developments, Holloway said.
The Philadelphia project is being built in uCity Square, a 6.5 million-square-foot mixed-use development with restaurant, retail and office space, but also clinical and laboratory space. It is scheduled to open in August, a company spokesperson told CoStar News.
The company's next Anova project is scheduled be developed in St. Louis, Holloway said, and other Anova projects will be built in California. The company is working on finalizing such a development near the University of California at Davis campus, Holloway said.