G-7 summit: Trump Calls Trudeau "Weak and Dishonest"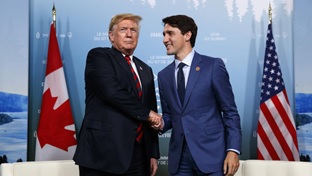 QUEBEC CITY — American President Donald Trump upended G-7 Summit-2018. He declined to sign an agreement with the other members of the global meeting and escalated a conflict with Canada's prime minister Justin Trudeau.
Donald Trump blamed Trudeau in being dishonest on the basis that Canada`s prime minister announced an agreement between all 7 countries that take part in the Summit. According to Trump, Americans do not agree with the tariffs that Canadians set for farmers and companies and he was not going to sign the agreement. "We're like the piggy bank that everybody's robbing — and that ends", – said Trump.
During the private sessions on Friday, Donald Trump had talks with the leaders of Japan and European countries. American President accused them in mistreating the USA and announced rising of the aluminum and steel tariffs. The response was predictable: leaders of several countries promised to do the same towards America.
Donald Trump was escalating conflict between G-7 countries. He also offered to call Russia to join G-8 despite being excluded from the summit 4 years ago. This suggestion received a mixed reception from the world community.