Illegal Gun Selling Charges for Indiana Man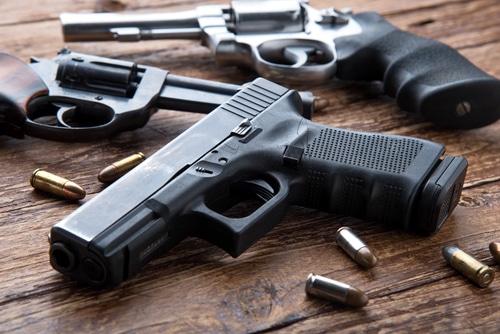 An Indiana man is facing the law as he is charged with a federal firearm offense for allegedly illegally selling dozens of handguns and assault rifles in the Chicago area. 55-year old Wayne Adam Tucker of Albion, Ind., is charged with one count of dealing firearms without a license, and one count of distribution of a controlled substance.
A criminal complaint was unsealed on Monday in federal court in Chicago. The complaint accuses Tucker of selling 39 guns on four occasions from April 2019 to February 2020. In south suburban Dolton, three of the alleged sales occured, while one deal allegedly happened in Hammond, Ind. The complaint states that Tucker was unknown to the fact that in all of the deals, the buyer was confidentially working on behalf of law enforcement.
On Sunday, Tucker was arrested. On Monday, he made an initial court appearance before U.S. Magistrate Judge Jeffrey Cole. Judge Cole ordered Tucker to be released on home detention pending trial. John R. Lausch, Jr., United States Attorney for the Northern District of Illinois; Emmerson Buie, Jr., Special Agent-in-Charge of the Chicago Field Office of the FBI; and David Brown, Superintendent of the Chicago Police Department announced the charges.
The government is represented by Assistant U.S. Attorney John D. Cooke. According to the complaint, on April 28, 2019, Aug. 17, 2019, Nov. 16, 2019, and Feb. 8, 2020, Tucker carried out the four unlicensed sales of the guns to the confidential source. The complaint states that Tucker explained to the "buyer" that several people were supplying him with firearms that had been purchased at gun shows in Indiana.