Poet Amanda Gorman performs at presidential inauguration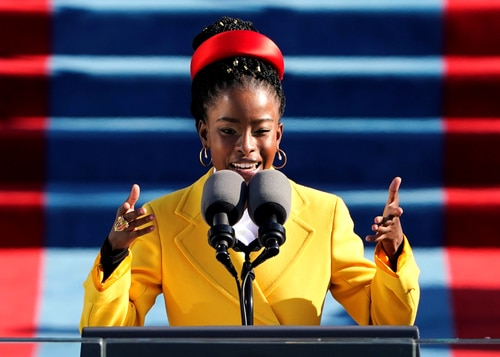 mccv / Shutterstock.com
Amanda Gorman, a 22-year-old poet, performed at the presidential inauguration on January 20. She has become the youngest poet to perform at this level. She called for "unity and togetherness" during her performance. She delivered her self-penned poem, The Hill We Climb, before the prestigious attendants of the event and the whole world.
Gorman described herself as a skinny black girl. She said that her ancestors were salve and she was raised by a single mother. However, she can dream of becoming the president of the country. Her poem began, "When days come, we ask ourselves where can we find light in the never-ending shade?" She added, "We have seen a force that would shatter our nation." She was referring to those who stormed the Capitol building on January 6.
Gorman added that democracy could only be delayed for a while but it could never be defeated. She also holds the honor of being the first National Youth Poet Laureate of the US. She found the right words at the time during her performance. Her words had a beautiful pace. It was a well-judged poem for a special occasion.
Gorman received huge praise for her reading from all across the US. Oprah Winfrey, a US broadcaster and actress, tweeted, "I have never been prouder to see another young woman rise! Brava Brava, Maya Angelou is cheering – and so I am." Michelle Obama, the former US first lady, tweeted, "With her strong and poignant words, Amanda Gorman reminds us of the power we each hold in upholding our democracy."
Hillary Clinton, a former presidential candidate, said, "Wasn't Amanda Gorman's poem just stunning? She's promised to run for president in 2036." Stacy Abrams, a US politician, called the poem an "inspiration for all of us." Angela Jackson, an Illinois poet laureate, said that she was stunned that Amanda was so young and so wise. Gorman was born in 1998 in Los Angeles with a speech impediment. "It's made me the performer that I am," said Gorman.