US has first female, black, African-American vice-president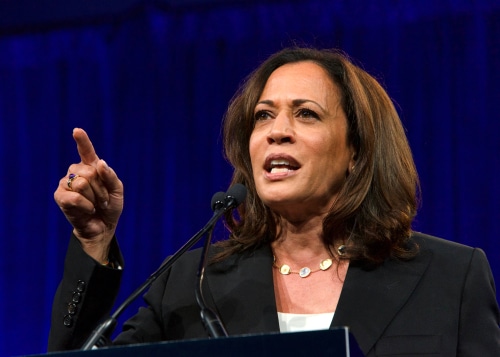 Sheila Fitzgerald / Shutterstock.com
Kamala Harris was sworn in as the vice-president just before Joe Biden took the oath of the president of the United States of America. Harris has made history as she is the first black, African-American, and female vice-president of the US. She was born in Oakland, California. Her mother is Indian-born while her father is Jamaican-born.
Harris has an Indian-Jamaican heritage. She initially ran for the Democratic nomination. After the winning of the presidential election, Biden chose Harris as his vice-president. He said about her, "She is a fearless fighter for a little guy." Harris paid tribute to women before taking the oath. She said, "I am here today because of the women who came before me." She added in a video statement, "I stand on their shoulder."
Eugene Goodman, a Capitol police officer, escorted Harris at the inauguration. Goodman emerged as a hero as he steered a pro-Trump mob away from Senate chambers on January 6 during the Capitol riot.
Harris gained her education from Howard University. She said that her stay at Howard University was one of the most formative experiences of her life. After spending four years at Howard University, she went on to get a law degree from the University of California. She always said that she was comfortable with her identity as an American.
After getting her degree in law, she joined the Alameda County District Attorney's Office. In 2003, she became the district attorney for San Francisco. Later on, she became the first female and African-American attorney general of California. She gained a huge reputation as an emerging star of the Democratic party in her two terms as attorney general of the most populous state of the country. In 2017, she became the junior US senator of California. She decided to run for Presidency but dropped out of the race in December 2019. However, Biden announced her as his vice-president in August. Harris congratulated Biden when he was announced as the next president. "We did it, we did it joe," she said.