Bruno Crosses Mississippi River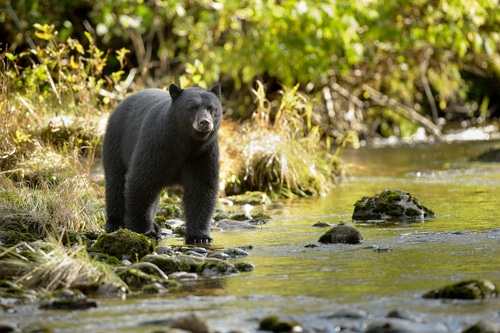 Bruno the errant American black bear had been charming Illinoisans with his trek down the western edge of the state from Wisconsin. But the fun is over. Bruno has crossed the Mississippi River earlier this week headed for Missouri. Joe Hartsock of Pleasant Hill in Pike County shot the video of Bruno crossing Mississippi Tuesday night.
Hartsock posted the video on his Facebook page. WGEM-TV in Quincy reported the story Wednesday afternoon. His location was consistent with the last stories. The bear nicknamed "Smokey the Bear 'Bruno'" by Illinois State Police after they joined in helping the bear cross Interstate 72 near Barry Monday afternoon.
According to WGEM, the Illinois Department of Natural Resources reported the bear had reached Island 464 in the Mississippi near Clarksville, Mo. However, the department couldn't confirm if he continued on across. Clarksville is the site of a Missouri State Game Refuge on the river. IDNR spokeswoman Rachel Torbert said Thursday that the bear had been spotted in Elsberry, Mo., just south of Clarksville.
The department initially said Bruno crossed from Wisconsin into northwestern Illinois on June 10. It is said Wisconsin is population of 29,000 black bears. It crossed the Mississippi into Iowa, but then returned just south of the Quad Cities two weeks ago when he started bringing in attention. The American black bear is the smallest in the continent.
It is estimated that there are 600,000 black bears in the continent, but are scarcely found in Illinois. They're protected under a state law enacted in 2015, however that also protect cougars and grey wolves. IDNR counseled that Bruno didn't possess any danger unless provoked and give him space. Bruno was harassed by a crowd of about 300 in Henderson County on Father's Day weekend.