Chicago is Under Anti-Violence Street Protest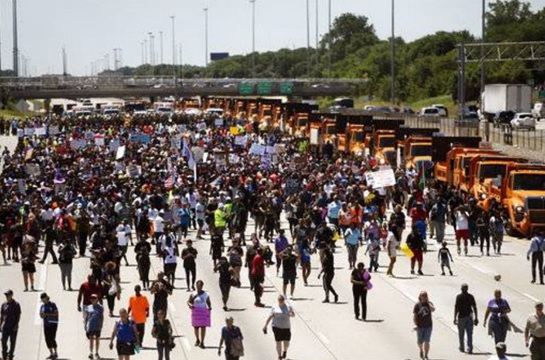 The traffic was shut down by a crowd of protesters on Saturday in Chicago. People required protection against armed killers that take the lives of innocent and poor people.
The protest was organized by Michael Pfleger, a Roman Catholic priest on the city's South Side. He led people asking for peace and security. Chicago citizens suffer from armed attackers daily and they need to feel themselves not like victims but like free people in the democratic country.
The protestors made a 1,5-mile trip in Interstate 94, it took them near an hour and a half. The protest was aligned with the police, but the participants start to be aggressive and changed the direction. Bruce Rauner, Governor of Illinois, twitted that the demonstration was chaotic, Democrat activists insisted it was a peaceful one.
Participators demanded to strengthen the law on arms, they told about other problems, as well, such as bad educational conditions for children and the absence of job for adults. Unfortunately, the racial and economic inequality still occurs in Chicago.
According to the statistics, there were documented around 1100 shootings during the first half-year in 2018. Most of the crimes happened in the black districts of Chicago.