UAW extends strike to factories in Chicago and Michigan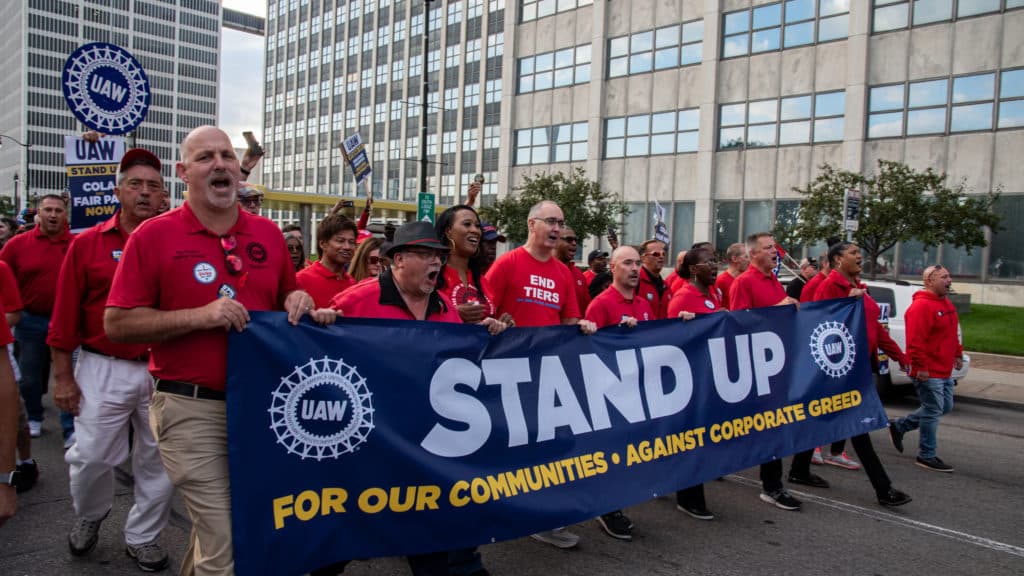 According to UAW President Shawn Fain on Friday, the United Auto Workers (UAW) union will extend its strike against three major automakers to a Ford facility in Chicago and a GM plant in Lansing, Michigan.
The picket lines would be joined at noon by an additional 7,000 union members from the two facilities, bringing the total number of autoworkers on strike to 25,000.
"Despite our willingness to bargain, Ford and GM have refused to make meaningful progress at the table," Fain said in livestreamed remarks. "That's why at noon Eastern time today, we will expand our strike to these two companies."
"Our courageous members at these two plants are the next wave of reinforcements in our fight for record contracts," he later added.
Fain did not call on any additional UAW members to strike against Stellantis, noting that the company made "significant progress" in its negotiations with the union shortly before he was set to make his remarks.
"We are excited about this momentum at Stellantis and hope it continues," he said.
However, Fain emphasized that negotiations have not broken down with Ford and General Motors and that talks continue with all three companies.
The UAW launched its strike earlier this month, after failing to reach a deal with the three automakers before their previous contract expired.
Autoworkers at a small number of facilities initially walked out, before the union expanded the strike last Friday to include Stellantis and GM facilities at 38 locations across 28 states.
The union earned a boost earlier this week when President Biden made an unprecedented stop at a General Motors facility in Belleville, Mich., to join striking UAW members on the picket lines. He is the first sitting president to do so.
"Let's keep going; you deserve what you've earned, and you deserve a hell of a lot more than what you're getting paid now," Biden said Tuesday.
Fain touted the president's "historic" visit to the picket lines during Friday's remarks but emphasized that any progress on contract negotiations would come from striking workers.
"When we win this fight, when we right the wrongs of the past 15 years and longer and when we set a new course for future generations, it won't be because of any president — not the UAW president, not the president of the United States," he said. "It will be because ordinary people did extraordinary things."
Source: thehill.com