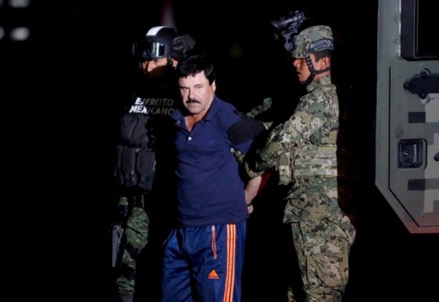 There is new story in the life of notorious drug lord Joaquin 'El Chapo' Guzman as he is trying to seek a trial of which he was convicted.
The reason for seeking a new trial is that one of the jurors has revealed that the jurors read and listen to the media despite the judge telling them to refrain from it. El Chapo lawyer has filed this claim in the court on Friday.
Eduardo Balarezo, El Chapo's lawyer has filed this motion by writing a letter to the U.S District Judge Brian Cogan. He is the same judge that presided the trial of El Chapo in Brooklyn Federal Court.
The standard procedure and protocol is that 14 days is the maximum number of days for filing a motion for seeking a new trial. Those 14 days are up next Tuesday.
Mr. Balarezo is asking for an extension of additional 30 days.
With regard to these circumstances, the representatives of the prosecutors have refused to give comments on the issue.
Guzman was convicted on Feb.12 for being the front runner of the Mexico's Sinaloa Cartel. That Cartel is been held responsible for running many illegal operations including drug trafficking, money laundering, weapons to name a few.
El-Chapo was given full time life imprisonment with no option for parole.
The trial continued for about 3 months and the judge reminded the jurors of not giving attention to what's happening in the media.
A juror whose identity is kept secret told Vice News that he or she along with other jurors used to look at Twitter posts regarding the trials.
The juror also revealed that the jurors lied to the judge regarding listening or reading about the trial in the media.
The jurors were given extra-security because of history of the accused.
Guzman also had a history of escaping prison twice and was finally captured in 2016 and extradited to U.S. in 2017.
His Cartel, the Sinaloa Cartel is one of the powerful cartel presence in the U.S along with the Jalisco New Generation Cartel (Source U.S. D.E.A)