Mazda, Toyota, and Subaru crash at Route 12 and Volo Village Road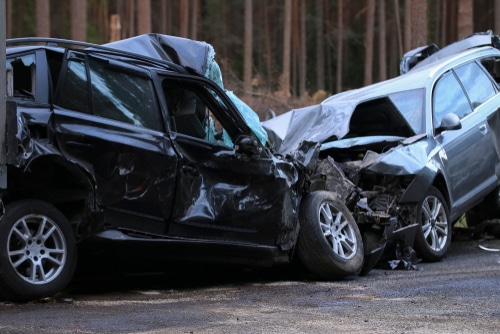 The Lake County Sheriff's Deputies and Wauconda paramedics/firefighters received a report of a crash at Route 12 and Volo Village Road. The deputies and paramedics/firefighters responded to the crash with injuries immediately at 5:55 pm on Monday. They found when the reached the scene that three vehicles were heavily damaged in the crash.
The driver of a Mazda convertible lost his life during the crash and he was pronounced dead at the scene. The paramedics transported the driver of the Toyota to Level 1 Trauma Center Advocate Condell Medical Center while the driver of the Subaru remained safe in the crash. The autopsy of the deceased driver of the Mazda convertible is scheduled on Thursday, December 26, 2019, according to the Lake County Coroner's Office.
The initial investigation revealed that the 82-year-old male driver of 1995 Mazda convertible crossed into the northbound lane from a southbound lane on Route 12 for an unknown reason. A 2005 Toyota Sedan traveling southbound struck the Mazda convertible. A 20-year-old male driver was driving the Toyota Sedan.
The initial investigation also found that the Toyota Sedan came in the path of a 2008 Subaru SUV after striking the Mazda. The Toyota struck the Subaru, according to the initial investigation report. A 27-year-old McHenry man was driving the Subaru SUV. Another incident occurred during the investigation of the crash. A 2016 Ford Pickup crashed into the squad car standing at the crash scene.
Chris L. Miller, a 65-year-old male driver, was driving the Ford. The squad car collided with a Sheriff's Auxiliary Deputy during the crash. The auxiliary deputy sustained severe leg injuries and he was transported to a nearby hospital. Miller fled from the scene but he was arrested by the police later on. He was found driving under the influence of alcohol. He has been charged with serious crimes.