Naperville Firefighters Battle Apartment Fire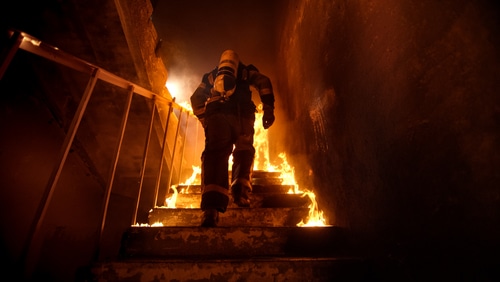 Naperville's Public Safety Answering Point (PSAP) received a 911 call from the fire alarm monitoring company, at 01:33 AM, on Monday regarding the multi-family residence in the 1400 block of Fairway Drive, reporting an activated fire alarm. 2 Engines, 1 Truck, and a medic unit to the scene were dispatched by Naperville 911 (PSAP).
General Alarm was assigned following additional information from the first arriving Fire unit reporting smoke from the second-floor apartment. Twelve pieces of fire apparatus and 24 fire personnel to the scene were brought by the General Alarm. At 01:38 AM, the first fire department units arrived on the scene. A fire in the kitchen was found when fire personnel entered the second-floor-unit.
To extinguish the fire, the engine company had advanced a hose line into the second-floor unit. In the second-floor unit and the apartments directly above the fire-floor apartment, salvage and overhaul operations were completed. An inspector from Naperville's Transportation Engineering and Development (TED) was also notified.
An investigation is underway to find the cause of the fire. Two occupants were removed from the building by the Firefighters. The occupants were evaluated and did not require any further medical attention. Due to smoke and water damage, the second-floor apartment unit was deemed uninhabitable. The American Red Cross was notified to assist the occupants.
The Naperville Police Department assisted the Naperville Fire Department on the scene. Coverage for Naperville fire stations during this incident was provided by the Downers Grove Fire Department and the Westmont Fire Department. There were no injuries to firefighters on the scene.