President Biden: Arbery's killing is a sing to keep fighting for racial justice in US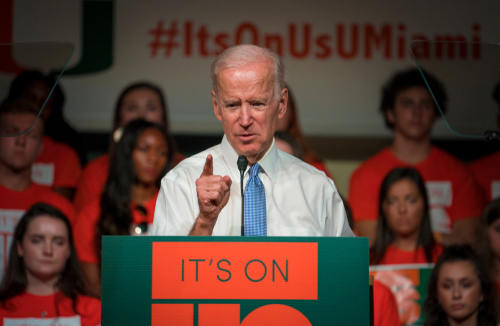 Hunter Crenian / Shutterstock.com
President Joe Biden said in a statement Wednesday that although the jury's decision to convict three men of murder in the fatal shooting of Ahmaud Arbery represents the justice system "doing its job," he believes "that alone is not enough."
"Ahmaud Arbery's killing – witnessed by the world on video – is a devastating reminder of how far we have to go in the fight for racial justice in this country," Biden said in a statement. "We must recommit ourselves to building a future of unity and shared strength, where no one fears violence because of the color of their skin."
On Wednesday, three white men were found guilty on multiple murder counts, among other charges, in the fatal shooting last year of Arbery, a 25-year-old Black man, that became part of a national reckoning over racial justice.
The convictions of the three men, Greg McMichael, Travis McMichael and William Bryan came after around 10 hours of deliberation over two days by the disproportionately white Georgia jury, after defense attorneys for the three men had argued that their clients were attempting a legal citizen's arrest when they saw Arbery on a run, while prosecutors said there was no evidence Arbery had committed a crime.
"Mr. Arbery should be here today, celebrating the holidays with his mother, Wanda Cooper Jones, and his father, Marcus Arbery," Biden said. "Nothing can bring Mr. Arbery back to his family and to his community, but the verdict ensures that those who committed this horrible crime will be punished."
The development comes after another verdict last week, in which a jury acquitted Kyle Rittenhouse in the fatal shooting of two people and the wounding of another during racial justice protests last year in Kenosha, Wisconsin. The verdict sparked celebration among some of those on the right, while others criticized the decision, expressing fears that it may inspire vigilantism throughout the country.
Biden responded saying that "the jury system works and we have to abide by it."
"While the verdict in Kenosha will leave many Americans feeling angry and concerned, myself included, we must acknowledge that the jury has spoken," the president later said in a statement.
Source: www.usnews.com